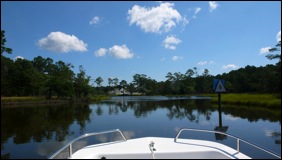 With so many places on the market these days, why should Bluewater Cove be a spot that you consider?


While there are many places available these days, none of them combine the features of Bluewater Cove with the price and location.

First, if you are looking for great schools, children at Bluewater Cove go to school at White Oak Elementary, Broad Creek Middle, and the
award winning
Croatan High School. Carteret County schools are in top ten percent in North Carolina.

Second, if you are looking for a safe place that is peaceful and quiet while still offering the opportunity for lots of activities, Bluewater Cove is a gated community on the banks of the White Oak River just ten minutes from the beaches of Emerald Isle and the waters of Bogue Sound.

Carteret County is one of the last coastal spots where you can find
a small town environment
in the midst of great natural beauty and still have modern services without being surrounded by wall to wall homes.

There is a great advantage to having the pristine
White Oak River
on one side of you and the 158,000 acres of Croatan National Forest protecting the area from overdevelopment.

With the Southern Outer Banks guarding us to the South, we are a paradise for people who enjoy the out of doors. From kayaking, biking, boating, swimming, and hiking to fishing and walking the beaches, residents of Bluewater Cove have options that many people just do not have.

We are under ten minutes from
the modern services of Cape Carteret and Cedar Point.
Even more shopping is available in Morehead City which is just twenty minutes away.

With a Clubhouse for the many community events, a pool right by the White Oak, the best boat ramp on the White Oak, boat storage, quiet street for biking or walking, and a park like area with boardwalk, Bluewater Cove has the amenities that most families want.

When you can locate a place like Bluewater Cove in the midst of the natural wonders of the Crystal Coast, it ends up being a wonderful place to live, raise a family, or retire.

With scenic wonders like
Cape Lookout
within an easy ride, t
he Aquarium at Pine Knoll Shores
, and
the Maritime Museum at Beaufort
only thirty-five minutes away, there is usually something fun to do while living at Bluewater Cove.

It is very easy to spend
a day on the water enjoying Bogue Sound
.

Carterert County is
a great place to live
, and Bluewater Cove is best value for the money of any subdivision in the area.

Where else can you find a secure place that offers
an escape to the beach in ten minutes
or less and
one of the most scenic ten minute boat rides to the Intracoastal Waterway
in North Carolina?

For further information call me, David Sobotta, at 252 646-8689 or click the contact me link at the bottom of the page.

A personal tour or more information is just that easy phone call away. You are even welcome to visit by boat.


Homes are available
in Bluewater Cove from $329,000 up, and there is a wide selection of lots, some of which are waterfront.


I am proud to say that Bluewater Cove is
my home
. and it is place that I am very willing to share with those who appreciate its uniqueness.