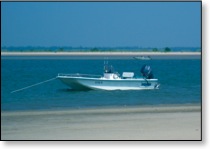 When we moved to a house on the White Oak River last September, one of our goals was to do some boating.
We do not come from boating families so this promised to be a new experience.
For a while the joke was that our boat would have two names, "Living the Dream" and "Glenda's Nightmare." As you might guess, Glenda is my wife.
I have heard it said more than one time, that you cannot appreciate the Bogue Sound area unless you see it from a boat. I would have to agree.
I am plenty familiar with water, having owned a kayak for years and also having fished with a guide in the Beaufort area a number of times.
Still the first thing I did last November was to take the Coast Guard Auxillary's Boating Safety Course. It gave me a good background to start exploring the world of boats and the waters of the Crystal Coast.
Buying and learning how to use a powerboat, appeared to be a huge challenge, but I worked away at it during the winter.
I talked to many locals and listened to a lot of boating advice. I visited a number of local boat show rooms and of course spent a lot of time on the web.
Where we live actually had a lot to do with our boat decision. Our home is in
Bluewater Cove
just off Hancock Point. For anyone who has a chart handy or is familiar with the White Oak, that is just off the red 16 buoy which is not far from the old Worthy is the Lamb site.
We have a private boat ramp in our community and our house has a small dock behind it. I have not seen the water from our dock out to the White Oak drop below 2.5 to 3 ft in depth so we actually had a lot of choice in boats.
However, we decided that we wanted a boat that would be easy to beach and easy to get out of trouble since we were new to boating. After a lot of thought, we ended up with a Sundance skiff that is twenty feet long and has a 90HP four stroke Yamaha motor which has turned out to be very quiet and also surprisingly fuel efficient.
The boat is very stable, has a slight vee at the bow, and handles very well. We added a depth finder-GPS, a bimini top, and a swim step. The boat came with four coast guard approved life preservers, a throw cushion, some night lights, and safety equipment.
Since buying the boat we have added a hand held VHF radio, some better noise making and safety devices, a larger anchor with chain and proper fittings, a long wooden paddle, a bucket, a tool kit, additional lines, first aid kit, and bumpers.
We also purchased a memory card with maps and buoys for the GPS. We also invested in a floating case for some of our important papers and a cell phone that we carry on the boat. I already owned charts of the whole area.
The first thing that happened when we picked the boat up in Morehead City at
Boats, Inc
. was a quick boat orientation from the boat dealer's dock down to the Atlantic Beach bridge. It was very basic, and covered just enough to get me going.
Knowing that I was not going to get a lot of instruction during my orientation, I had asked for some names of instructors from Chris Davies, the owner of Boats, Inc. I was hoping to find someone to provide a few hours of training.
There are lots of people in the area who do this, but I ended up with Master Captain Jay Cusick of
Overtime Tours
out of Morehead. He has turned out to be a great teacher.
I made arrangements with Captain Cusick to show up at our home the day after we picked up our boat.
That day as soon as he checked the boat for necessary equipment, we prepared the boat for launching which involved removing the transport strap, disconnecting the trailer's lights, and making sure the boat's drain plug was installed.
It did not take me long to back down the ramp across the road from our home and with some expert advice get the boat launched.
We immediately headed out the channel to the White Oak. I had asked neighbors about the channel and the buoys, so I knew enough to turn left at red 16 and head towards Swansboro.
With the help of Captain Cusick's eagle eyes, we were able to follow the zig-zag path of the red and green buoys down to Swansboro, under the western bridge and to the Intracoastal Waterway.
We then headed down the Intracoastal and over to Bogue Inlet where we actually went out in the ocean a little. My first day's lesson was probably about three hours including some practice docking and some serious time sitting at the dock learning the GPS.
We actually left the boat in the water for three or four days after that since my daughter and her significant other, Alex, were coming to visit. Alex has been boating for most of his life so I knew I would learn lots from him.
Each of the next couple of days before they arrrived, my wife and I took the boat down to Swansboro and sometimes over to the Inlet.
On Saturday morning after Alex arrived, he and I headed down to the Swansboro bridges and actually did our first fishing from the boat.
We were bottom fishing and ended catching a number of bottom fish, including Grouper, Spot, Pinfish, Pigfish, a small Sea Bass, Croaker, and even a Sea Robin. We threw all the fish back, but we had a great time catching them.
We took a quick trip over to the point and then headed home. The next day we took the ladies with us and
ventured down to Hammocks Beach
and followed the channel along Bear Island over to Bogue Inlet.
I had talked to one of the neighbors so I had a pretty good idea of where to go. We just went slow, watched the depth finder, and were careful. We did not have any problems.
Alex helped me get the boat out of the water the first time and showed me how to flush the engine with fresh water using a muffler. We had purchased brushes and boat cleaner so the rest of it was just lots of elbow grease.
I was surprised at how much work it was to get the boat back to pristine shape. It was also interesting finding a gas station where you easily pull the boat up for fueling.
We hired Captain Cusick a second time to ride with us on
our first trip to Shackleford Banks
. We had an absolutely beautiful Thursday afternoon to travel down the sound.
We anchored the boat just off the Banks while my wife marveled at the sea shells as some of the ponies grazed in the background. We also did the Sand Dollar shuffle and found some beautiful ones.
The whole trip was sixty seven miles and took us slightly over four hours. On the way back, my wife got her first boat instruction including how to ride the wakes produced by other boats. We burned about two gallons of fuel per hour. We have had a number of adventures since then.
We're pretty comfortable with our boat now. It has been back for its twenty hours check-up.
We have been
up the White Oak to Haywood Landing
which is past the point that the White Oak becomes fresh water. We were lucky to be able to follow someone up the White Oak to Stella.
We have also been back to Hammocks beach and have made regular trips over to Bogue Inlet. Recently we anchored off one of low tide sandbars that pop up there and marveled at the beauty of our area.
It has been really neat visiting the real water that is depicted on all the charts that I have been studying during the past year. I also have found some great uses for all those knots that I learned while I was a Boy Scout.
If you want to take up boating,
the Crystal Coast
is the place to do it. There are plenty of people here who are boating experts and willing to share their knowledge. Except on the weekends, most of the waterways are relatively uncrowded and safe as long as you pay attention to the weather and tides.
You will never fully appreciate the beauty of the area unless you ride a boat down Bogue Sound or out Bogue Inlet.
I can highly recommend both Boats, Inc., but just make sure that you talk to the real boss, Lady, the Labrador who runs the place as Chris, Brenda, and Carol Davies will quickly tell you. Of course Captain Cusick also gets five stars for his patience and knowledge.
Some books that have been helpful to me are Dockmanship by David Bell, Getting Started in Power Boating by Bob Armstrong, the One Minute Guide to the Nautical Rules of the Road, and the US Coast Guard's U.S. Aids to Navigation System. I also still refer to the course book from the Coast Guard Auxiliary Boating Safety Course.
Hopefully this will be the first in a series of articles that will help new boaters enjoy our area. We have recently managed to get
a boat lift
so that will make it a lot more convenient to use our boat. I am looking forward to the cooler weather of fall which will bring some great fishing to go along with the boating.
Thought I have to admit,
the few times I have been out
, we have been pretty successful even in July.
Remember "Red on right when returning home" or when heading to Texas on the ICW.