Enjoying your beach visit
Jul/25/10 11:06 PM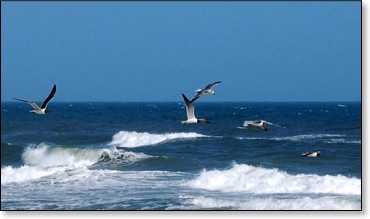 Sometimes getting across the bridge at check-in for your beach vacation can be a challenge.

With a short window on both Saturday and Sunday for people to pick up their keys, traffic can get backed up at the bridge.


The good news is that we rarely see other traffic problems after the weekend. Our peak traffic season only last a few weeks. As we get away from the Fourth of July, traffic decreases, but even later in the season, there are some challenges.

With that in mind, I have some simple suggestions that might make your visit more pleasurable. Some are gleaned from what our family used to do before we became permanent residents.

Others are based on applying the local knowledge which you develop as a resident. In the end just a little planning and some minor changes can make a huge difference in maximizing your beach time and having the most fun possible.

One of the easiest ways to reduce first day stress is to pack a cooler with enough food at least for the first evening meal and breakfast of the next day. In the Emerald Isle area there are four grocery stores. There are three more in Morehead City and another in Atlantic Beach. Even with that many stores, most grocery stores in the area get very crowded on Saturday and Sunday, both in afternoons and the evenings.

While our stores are generally very good at moving people through, if you have a huge cart full of stuff, you can expect to wait some length of time to check out if you shop on Saturday or Sunday later than the morning. If you make that same large shopping trip on Monday morning, you likely will breeze through the checkout. Bringing some food and basics with you can greatly smooth your entry into beach life.

You do not have to completely avoid the grocery stores on the weekend, you just have to pick your battle. I am actually a pro at going to the grocery stores on Saturday and Sunday during the visitor season. My first secret is to never get more than what will fit in one of those small hand baskets. Then the real key to getting in and out of the store quickly is to use the automated check out systems. Usually the attendant will use their affinity card if you are trying to save on the specials and do not have one of the cards. However, you do not need one of the cards to use the automated machines.

You can also save a trip to the grocery store by stopping at one of the local produce stands.
Winberry's
in Cedar Point is one of my favorites. A stop there, and then at one of the local fish markets is a good way to come up with ingredients for dinner without hitting the grocery store.

Almost no one comes to the beach without eating out a few times. The problem is that most people want to eat out at the same time. Hence the few restaurants over near the beaches can get crowded at the most popular times. There are two solutions to this challenge. One is to pick a time that is enough out of the ordinary to let you beat the crowds. The other is to try some of the very good restaurants over on the mainland or lesser known island ones.

Sometimes the choice when trying to dine out is an hour wait in line, or twelve to fifteen minutes in the car. I have been both at Jordan's in Emerald Isle and the Crab Shack in Salter Path when the waits were well over an hour. Both times we got in the car and drove to
T&W's Oyster House
up Highway 58. My humble opinion is that their fried seafood is as good or better than the two island based restaurants. It is also a very big restaurant, and it is unusual not to be seated almost immediately.

I offer up
this list of restaurants
as suggestions to making dining out a little easier. Many of them are on the mainland, some are less well known island restaurants. All are ones where I have enjoyed good food. Since I created that list, Nicky's has opened between the bridges in Swansboro. I have enjoyed some really nice seafood there. Even more exciting is that it did not come out of the deep fryer. However, just to prove that I am impartial when it comes to cooking seafood, their fried clam strip appetizer is also a favorite of mine.

Another suggestion for saving time and money is to use the automated free standing ice machines instead of making a trip to the grocery store. I am a big fan of getting my ice in the cooler without having a plastic bag which ends up in the landfill. The automated ice machines give me more ice, twenty pounds instead of sixteen, when I do not ask for the ice in a bag.

If your accommodations on the beach still require you to drive to get to the beach, you might find the Western Regional Access crowded at times. There are other places you can go to avoid the crowds. Most days there will be fewer people at the Eastern Regional Access about eight miles farther down the beach.

If you want even less people and want to be very close to the beach, Third Street Beach is a good choice if you can get along without a restroom and water to wash your feet. I sometimes find it almost deserted. There is also a great beach access with parking at the Roosevelt Natural Area in the Salter Path area.

If someone in the family is willing to do a little walking, you can sample some of the best beaches on Emerald Isle like I did recently on
a nearly perfect Crystal Coast day
. Just use the CAMA access points on Inlet Drive and park in the small parking lot on Coast Guard Road. It is easy to drop the family and gear at one of the access points and circle the block back to the parking area. The walk back to the beach is five to ten minutes.

There are
lots of wonderful things to do at the beach
. Just
learning a little about the local area
will greatly expand your options and perhaps save you some time when things get crowded on the beach.

You might even run into a special treat like
a Bogue Sound watermelon
if you get off the beaten path.
Vacations have changed
over the years, but when
summer is in full swing
, you can still have great fun here at the beach. Some planning and hints from us locals can make it even easier to have that fun.