Endless Sand, Ocean, and Sky
Oct/02/09 08:42 PM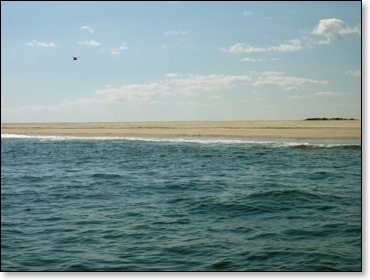 If you have passed by a television this week, you might have caught some of the PBS National Park series. Wilderness has been a big part of my life. Just as many Americans, I first experienced it in our National Parks.


I spent a lot of years after college chasing wilderness and enjoying living far from real civilization. Much of the show about National Parks is inevitably about the west. We are very fortunate in North Carolina to have our fair share of National Parks.

I have camped from the Smokies to Ocracoke Island. There is not much that is nicer than falling asleep in a tent under a cloudless sky full of stars that you hardly knew existed. The exhaustion that comes from enjoying the beaches and trails of the parks makes sleep come easily and somehow burns the memories deeply into your soul. Yet my greatest pleasure is being able to taste the wilderness
without facing the challenges
.

The great thing about the Crystal Coast is that you do not have to work very hard to find yourself nearly out of sight of civilization. Yesterday as we went out Bogue Inlet and turned down towards Hammocks beach, it was not hard to think of a wilder time.

The beach near us had several pelicans and a few other sea birds but no humans. Once in a while we could see a boat in the distance, but as is sometimes the case, we were where no one else had decided to come.

That happens often on the Crystal Coast. It was that way this summer when my daughter found an island to herself in the Inlet.

The ability to spread out and enjoy the area without someone right on top of you is one of the great things about the Crystal Coast.

Last night after we returned to our dock, I went inside and convinced my wife to go for a short sunset cruise. We dropped the boat back in the water and in less than five mintes were back out in the White Oak watching the sun drop behind the clouds.

As far as I could tell we were the only boat on the river. It was dark enough that I could only see the outline of the trees on shore. As the sun went down, we had the world of the White Oak River to ourselves. I could easily imagine that the sunset looked very little different five hundred years earlier before white men set foot on these shores.

It is a special treat to get up in the morning and look out over trees, blue sky and water and know that where we live is about as wild as it can get and still be within an area which boasts four grocery stores and a Lowe's Home Improvement store.


One of the reasons
we came here was that we wanted a place that would never be Myrtle Beach. I wanted to live within a short drive of Cape Lookout which preserves the Outer Banks as they were before men started building sand castles.

Having Croatan National Forest and the White Oak River covering my back is a benefit that I am just starting to appreciate. With my kayak, I can be in another world in less than five minutes of paddling. That is not a bad way to live.