Our First Taste of Spring Weather
Feb/22/10 10:42 PM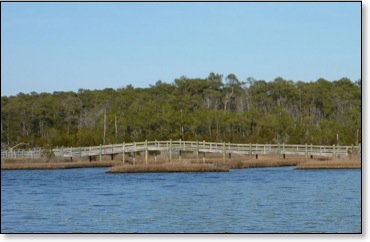 I am pleased that we have been treated to great weather this weekend.


I suspect that with this dose of warmth, we have old man winter on the run. While we are likely to suffer through some cooling later in the week due to blizzard conditions up north, I think we are done with most of the really cold stuff.

It has been getting warmer and warmer for the last several days. Saturday was a very nice day, but I was busy working all day. Fortunately Sunday was even better. We managed to have a
great day
.

We worked in the yard, went for a hike on the Croatan Trails, and even took a drive over to the beach. This morning was even better.

First off we awoke to a temperature of fifty-five degrees Fahrenheit. By 11 AM the temperature in our backyard with sixty-eight degrees where I was standing on the dock with a friend who had come to check out a problem with our boat.

With the warm weather, my thoughts had turned to boating, and on Saturday when I tried to start my boat, there was dead silence. This morning I had called my friend for a diagnosis, and he checked things and figured that my bilge pump had drained my battery in all the recent rains.

I try to start the boat every other week, but I think that I missed a week when I went up to Roanoke to
shovel snow
. I am hoping that a drip charger once the rain stops will get my boat going so I can take an early spring boat ride down the White Oak.

It is a true pleasure to be thinking about spring. We really had a hard time leaving my dock this morning. It was exceptionally pleasant standing out there in the sun. We did a fair amount of dreaming about this year's fishing. I can hardly wait. There are certainly fish out there now, but I am truly a warm weather fisherman. I would rather fish when I am wearing shorts and the water is warm.

Last October we had
a truly memorable day on the water
. We caught bluefish until our arms ached. A day like that every few seasons will make you a dedicated fisherman.

Often it is not the number of fish you catch and release, but the setting you are in and the company that is with you. Fishermen do not talk a whole lot, but the conversations are easy going and stress free which is something to value in today's world.

It is not unusual for us to find
our own private island
for surf fishing in Bogue Inlet. Even
the boat ride to and from the Inlet
can be so nice that it does not matter whether you catch fish or not.

The good news is that February is almost over, and some of these summer dreams will come true in the next few months along the Crystal Coast. Last year
our first really nice trip
on the water was April 24. That is actually not that far away.

We have lots to keep us busy. The Emerald Isle Saint Patrick's Day Festival is coming up on Saturday March 13, and the Swansboro Oyster Roast will be one week later on Saturday March 20.
Those two events
alone are enough to make March go by quickly.

Then there are the strawberries that hopefully have survived the difficult winter. We should see them around the first week in April. With Saint Patrick, steamed oysters, strawberries and warm weather on our minds, I think we might have this winter weather on the run. Even the pansies are starting to do really well.
Thriving pansies are great sign
of winter in its last days.

If that is the case, I cannot wait to go for my first spring beach walk. Just maybe there will be
some beach days on the horizon
before we know it.