Winter Takes the Stage
Jan/03/10 10:19 PM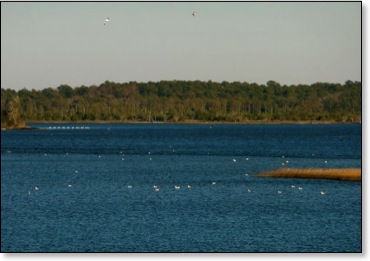 We are an area that sees cold temperatures only a few days a year so Sunday, January 3, was certainly a day to remember.


We only managed to reach the middle thirties today. With much of the center of the country struggling with single digit temperatures, it is hard to complain. However, when you live at the beach, you get used to warmth, and when the warmth disappears, it feels very cold to us.

Temperatures in the thirties and a stiff breeze made the Crystal Coast a wintery spot today even for those of us accustomed to much worse.

I wonder if it was the cold or wind that caused the sea gulls to congregate in the White Oak River? I know I was a lot warmer taking the river picture today than I was when were over at the Point yesterday, and the wind was so strong that it was
cutting the tops off of the waves
.

While the Crystal Coast is a very temperate spot, we do get to taste all four seasons.

Being an ex-Canadian, I sometimes like to brag about our weather here on North Carolina's Southern Outer Banks. In general we have really great weather especially compared to some of the places where I have lived. Still we do get some winter. There was actually
ice in the water behind my home
this morning.

It is not the first time we have seen
ice in the gut
that leads out to the White Oak River. It froze the third week in January 2008. Last year we even got to
glimpse a few snow flakes
. I am told it was the first snow seen in the area in the last six years.

This has been a strange weather year so we could be in for more surprises. Our biggest challenge in 2009 was the rain that came this fall. Some areas along Coast Guard Road near the Point at Emerald Isle still have some flooding due to our extraordinary rains this fall. We certainly were not alone in getting lots of rain. Most of the Southeast had an exceptional soaking this fall and early winter.

I guess if we are going to have lots of rain, it is better that it comes in November and December when there are fewer people to inconvenience in the area. However, as a fisherman I do feel as if I was shortchanged at least one month of fishing time in 2009.

It is early to make any long range weather predictions though there seems to be a consensus that the east coast is going to see more snow. Since there is no shortage of people who had to dig out of the recent east coast storms, I am hoping that we are already done with snow for the year even in the Southeast mountains.

Here on the coast, we got our snow last year, so perhaps after this cold snap we will get back to something like the winter of 2007 when I counted only nineteen hours of below freezing temperatures in January. Somehow that feels a little unlikely given the current forecast.

Still I do know the sun is warm here even in winter, and when it shows up each day,
the winter pansies
my wife planted in a sheltered spot respond to it. In Canada during January, the sun has light but little warmth. If we can weather the next four or five weeks, that Carolina sunshine will start to work its magic on the northern cold.

Eventually the Canadian border will hold those outbreaks of cold air, and by the middle of February, we will be talking about spring. Then I will be counting down the days until the local strawberries are ripe in late March or early April. With April comes the planting of my tomatoes and perhaps a chance to get on the water for some fishing.

We will make it through winter, I will just enjoy some of those
spectacular winter sunsets
, and by June we will be wishing for some cool air from Canada.