The Emerald Isle, NC Travel Guide
By David Sobotta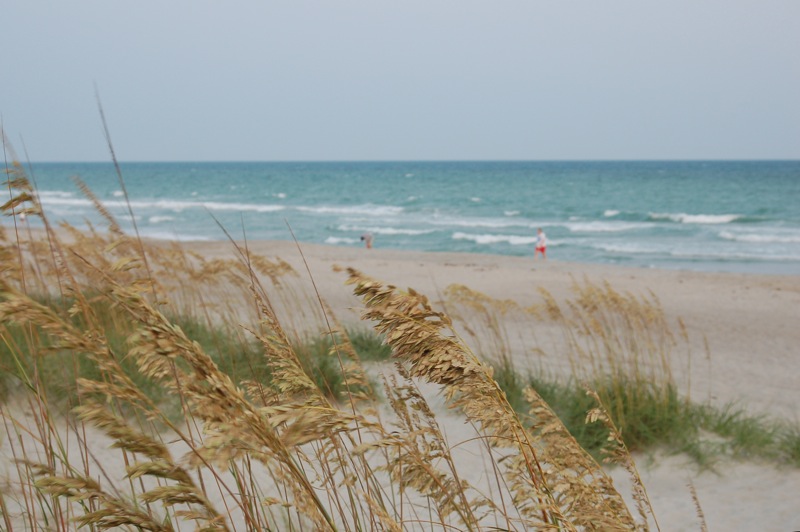 I've been living near Emerald Isle for nearly six years now. You get a much different perspective of an area when you are a local.
This is my free on-line travel guide to the area, I have a very detailed ebook, A Week at the Beach, An Emerald Isle Travel Guide. It is now available at the Kindle Store for $4.99.
The book includes lots of information about the area and suggestions about how to have a great vacation at the beach. It includes boating and fishing information. The ebook comes with beautiful pictures of the area's beaches, some great bird pictures, and even some wonderful recipes. If you want to plan a wonderful time along the beaches and waters of the Crystal Coast, our book is an indispensable, up to date guide.
The ebook is at the Kindle store, but if you don't have a Kindle you can use the free Kindle Reading Apps which work on Windows, Mac, and iPad.
Native versions for both the iPad and Nook are in the works.
If you want a quick quide to the beach, you will find very good information here.
Not only do I spent the summer months here, but I am also here the other nine months. I get to feel the heat in August, the warm breezes in the fall, some cold storms in winter, and the persistent breezes of spring that let us sleep with our windows open.
Each year here on the coast is different. In 2011 we had some snow that stayed on the ground for a few hours. In 2012, winter missed us. March was a wonderful warm welcome to spring. The month of April 2012 was a little cooler than March, but we still managed to have fresh local stawberries by April 4, 2012. As this is being updated in mid May 2012, the strawberries are still here and have been joined by a cornucopia of fresh produce. Fresh shrimp are also being caught, and I should have a ripe tomato by the end of May.
I know this area well because I spend time walking on the beaches and even more time on the water. I am an avid boater, fisherman, and kayaker. This is a great area to do all of that. I have enjoyed some memorable fishing trips around Bogue Inlet, but you don't have to catch fish to have a good time on the water. Fish are just an optional part of having fun.
While I cannot guarantee anyone a perfect vacation if you come for a visit, I can tell you that the beaches of Emerald Isle, neighboring Salter Path, and Pine Knoll Shores can restore your appreciation of the natural world. It is a world that is always changing. Areas like the Point where Bogue Inlet meets the ocean are magical places that change almost before our eyes. Where there is water one day, you might find sand in the same place tomorrow.
You will not find the night life or shopping of Myrtle Beach here in Emerald Isle. But you will find safe, uncrowded beaches that are there for the enjoyment of the people who take the time to walk them. Emerald Isle is proud of its image as one of the last family beaches. Almost everyone that visits falls in love and comes back again and again.
As in any area with hundreds of individual accommodations available for rent, your individual experience is going to have a lot to do with the property that you rent or the motel you choose. If you are renting a beach property, the best suggestion is that you pay careful attention to the reputation of the people renting you a vacation spot. People doing rentals depend on repeat business so they want to make your trip as enjoyable as possible. You can find the latest accommodation information at the Crystal Costal Travel Planning site.
Before you come, you should know that Emerald Isle is not a large place. However, Emerald Isle's 3,800 year round residents, make the town one of the larger towns in Carteret County. With only 64,000 permanent residents and more water than land, Carteret County is not known for crowds. Of course our population more than doubles in the summer, but it is still easy to get around the area even during busy times in the summer. There is still plenty of room on the beach, and when you compare Emerald Isle to many of the other east coast beaches, it is very uncrowded and relatively easy to enjoy your own private space on the beach. There are no high rise condominiums to pack the beaches. Finding a spot on the beach is never a challenge. And if you have a skiff you will not have any trouble finding even more private beaches in Bogue Inlet. If you are willing to walk a few minutes, the Point at Emerald Isle has plenty of space to spread out and explore areas that most beach visitors never see.
Part of what attracted me to Emerald Isle is that it reminds me of the Carolina beaches of my youth. You can still walk on a fishing pier in the evening or even go fishing on the beach. Walking the beach at night is a special treat since there are no city lights. The days on Emerald Isle seem to slow down. There always is plenty of time to enjoy an ice cream cone or a walk on the beach. A vacation in our uncrowded area lets you surf fish, swim, or just relax on the beach without getting in anyone's way. There are plenty of things to do while at the beach. The list changes as the seasons do, but whether it is enjoying fresh local produce in the summer, surf fishing in the fall, or catching fish in our backyards, there are lots of things that make the area special.
In the last few years, a number of large oceanfront homes have been built. They are locally know as sandcastles and have become popular for family reunions, but it is still possible in Emerald Isle to find reasonably priced accommodations within walking distance of the beaches. The Islander Motel is now a very popular condotel, and it is oceanfront with a pool.
What Emerald Isle might lack in night life, it makes up for in convenient services for visitors and full time residents. Even on the popular Saturday and Sunday check in days for the rentals, it is possible to slide into area grocery stores without too much inconvenience. Emerald Isle has its own Food Lion grocery store, and just across the bridge in Cape Carteret is a Lowe's Food Store. There is also another Food Lion and a Piggly Wiggly in Swansboro just a few miles away, and if you want more there is a Harris Teeter in Morehead City along with Best Buy, Belk's, TJ Maxx, and Walmart.
There is a CVS Drugstore on the Island, an Ace Hardware, an ABC Store, and the Captain Willis Seafood Market among other places to buy seafood. Emerald Planation and some of the other strip malls provide plenty of shopping and specialty stores including a number of places with fishing tackle for the guys. There are a number of shops for the ladies in Swansboro about ten minutes away. You will also find a Walgreens in Cape Carteret and another in Swansboro. The grocery stores, hardware stores, a Lowes Home Improvement, a fitness center, libraries, and plenty of other services are close by on the mainland.
The Beaufort historic district, its shops, and the Maritime Museumm are only thirty five minutes from Emerald Isle. If you head to Beaufort by the beach road, you go right by the NC Aquarium in Pine Knoll Shores. But even if you miss the turn for Morehead City and Beaufort in Atlantic Beach, there is no reason to despair, you will end up at Fort Macon which is well worth a visit.
A few restaurants call Emerald Isle home and there are more on the neighboring mainland. I have a PDF with a map and a list of restaurants to try. It is worth noting that many of the area restaurants are small, and it is a great challenge to maintain consistency when they are overwhelmed, so please be patient. The wait is worth it. I think the restaurants along the Crystal Coast do a fine job of preparing some exceptional seafood. You can often get better service and even tastier meals during peak season by adopting a slightly different meal schedule than the general population.
There are a number of attractions in the Emerald Isle area including some wonderful trails, two golf courses (Silver Creek and Star Hill), a driving range, three miniature golf courses, MacDaddy's Arcade, bumper boats, bike trails and a water slide. There is also beach volleyball at the western regional access. Of course with a new salt water fishing license, you have lots of places to try your luck fishing including the Bogue Inlet Pier where you can always count on some fishing action. There are also a number of fishing guides in the area for those who want almost guaranteed success. If you want to camp there is the Croatan National Forest Campground in Cedar Point which has a boat ramp for small boats. Larger boats can also be launched for free at the newly done Emerald Isle and Cedar Point state managed boat ramps or for a fee at the marinas in Swansboro, Cedar Point, and Emerald Isle. There are places on the Island to rent bikes for leisurely rides on the nicely done bike paths that parallel Emerald Drive. Of course you can also walk the paths and enjoy the benches that are strategically placed along the way.
Emerald Isle even provides beach wheel chairs daily on a first come first served basis from the town Fire Department.
Probably one of the nicest things about Emerald Isle is that the beach seems to have room for everyone who wants to enjoy the beach. The range of accommodations and the relative ease of finding a parking space at either the eastern or western regional beach accesses makes going to the beach something that everyone can enjoy. There are a few parking spots tucked away at the small lot at Third Street Beach, or if you want to sneak next door to Salter Path, you can enjoy the beautiful elevated walkway in the Roosevelt Natural Area. There is also parking out near the The Point which is one of my favorite spots. You can get a permit to drive on the beach during fall fishing season.
Vacationing on Emerald Isle is a restful experience. When you are done enjoying the beach for the day, you can enjoy some fantastic seafood in Emerald Isle or at one of the area restaurants which are easily accessible in T&Ws Oyster House on Route 58. If you want to miss the crowds, have a late lunch and then enjoy some ice cream for dinner from Ben & Jerry's, The Sweet Spot, or the Dairy Queen. The new MacDonald's has opened in Cape Carteret if you just can't live without a Big Mac. However, I would rather enjoy a burger and fries at Andy's in Emerald Plantation or Swansboro. A new Papa John's Pizza opened in Swansboro in the spring of 2011. The new Dunkin Donuts in Cedar Point has been open since summer of 2011. It appears the Fairway Restaurant is about to undergo an ownership change. Riso's restaurant has closed, and the Bogue House has gotten a new coat of paint and acquired a second location over by Bear Inlet. I will likely be adding Ribeyes and Carteret Cafe to my 2012 list of recommended area restaurants.
An additional resource for planning your trip is the official Crystal Coast Travel Planner. You can also find out lots of local information by checking the website of the Crystal Coast Electronic Village. There are pictures of the area at my Picasa Web Albums and Flickr sites. I also have companion travel guides to Beaufort and Swansboro which you can find on the left side of my home page. I haven't updated them recently, but there is still useful information there. Another source of great information is Emerald Isle's town website.
Remember also that Emerald Isle is more than just a summer beach, there's a great Christmas parade held every year and the Saint Patrick's Day Festival is one of the most enjoyable early spring festivals around. Even walking the beach in late winter or early spring can be very pleasant. I had a wonderful time at the Point in Emerald Isle on March 5, 2011. It is a wonderful place to explore unmapped territory. You will have a hard finding a more beatiful place for morning at the beach.
Whatever you do when you visit the Island, I hope you go home having walked the beaches. May the taste of fresh seafood remain in your memory until you can visit again. May you also come away from Emerald Isle with an appreciation for the clear waters of the Crystal Coast and how it important it is that we protect them. If you can do that, I would rate your vacation as a success.
I want to thank Emerald Isle's Mayor Art Schools for taking the time to provide suggestions for this travel guide.
Check out this this early summer beach walk near the Point for more local scenery. You can find more area information, attractions, and pictures at this website which I maintain for visitors. If you fall and love with our area and decide you need a home, it has happened to many of us. If you just want to dream about moving here visit my Saltwater on my feet site.
View Larger Map