Beaufort by the Sea
Feb/12/10 10:46 PM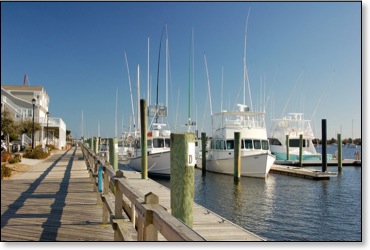 With some sunny days gracing the Crystal Coast this past week, we decided to take a trip to one our favorite places, Beaufort. It is a short thirty-five minute drive from where we live near Emerald Isle..


In a normal month, we usually find excuses to visit Beaufort at least a couple of times a month. When we have company, we always take them to visit Beaufort by the Sea. In the summertime the streets are filled with visitors and the docks are a great place to view a cross section of America. My wife has a couple of favorite stores that she likes to visit, and I often stop by Scuttlebutt, my favorite nautical bookstore.

We never fail to walk the docks and take a grand tour down Front Street to see what is happening.

Actually Beaufort was the place that first attracted us back to the Crystal Coast. I spent a lot of time in the area and on Ocracoke Island until I graduated college.

When we finally settled in Virginia in late eighties, we ended up focusing our beach time on the Northern Outer Banks. For many years we visited Corolla and Duck. As they got more and more crowded, we moved our vacation down to South Nags Head and finally down to Buxton on Hatteras Island.

When our thirtieth anniversary rolled around, I was looking for a place to really surprise my wife. I tried Bald Head Island and the only rooms available were very expensive. Then while looking at Bed & Breakfast homes online, I found the Cedars by the Sea Bed and Breakfast in Beaufort. It sounded wonderful especially with
its history of renewal
so I booked us a few days there and made reservations at the Blue Moon Bistro for our anniversary dinner. We both fell in love with the area, and it ended up being
the first of many trips we made to Beaufort
.

The Cedars by the Sea closed, but by then we had already moved our visits to
The Beaufort Inn
which worked really well since they had a dock. The dock was very convenient for Captain Tom Roller of
WaterDog Guide Service
to swing by and pick me up when my desire to go fishing got the better of me. Rumors that the Beaufort Inn is my favorite spot just because of Katie's Breakfast Pie have never been proved or denied.

One of the things that appealed to us the most about Beaufort by the Sea was that we could just park our car and walk to everything. Even after many visits we were still sampling a wide variety of restaurants like Spouter's, Beaufort Grocery Store, Front Street, and Net House.

Then there were harbor tours by
the Water Bug
and the Mystery. We also enjoyed
Beaufort Historic Stie
and even took a tour on their double deck London bus. We made many visits to the
Maritime Museum
which has become my favorite museum of all the ones that I have ever visited around the world.

In fact we fell so much in love with the Beaufort area, that we tried to find a place to live in the area. Unfortunately we could find one that met our needs and had the potential for a boat lift so we ended up in Bluewater Cove, but we still have not lost our love for Beaufort.

Beaufort has grown a lot since we first visited it in 2003, but it still has the same charm and beautiful historical homes. There are also a lot more housing options in the area than when we were looking.

If you love the out of doors, Beaufort is a great spot.
The fishing and boating
can be fantastic, There are not many places where you can be walking down the street and see
some incredibly interesting ponies
wandering the shores of a nearby island.