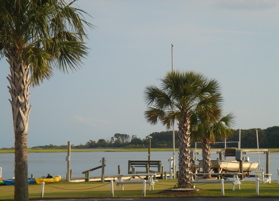 The Emerald Isle area is now home to us. T
his picture which was taken behind the Waterfront Inn captures the essence of our area, water, palms, and boats.
This is a great area if you love the outdoors, uncrowded beaches, and of course great seafood.
I have a few restaurants here to start, but I will be adding a number of others as I migrate them from my
View from the Mountain Blog.
While I don't have an Emerald Isle Travel Guide yet, I do have one for
Swansboro
, and I am working on one for Emerald Isle.