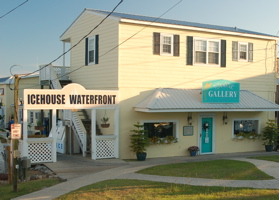 It was a little over a year ago that we first got to sample the food at the Ice House. Previous to that June 06 trip, we had spent most of our time in the Beaufort, NC area.
Late that June Kathy, a real estate agent at Bluewater GMAC real estate where I now work, took us to lunch at the Icehouse Waterfront Restaurant in Swansboro.
We found the food to be great. We even went back on our own before we headed back home.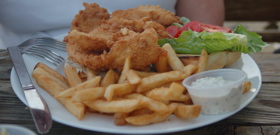 I can't tell you a lot about the menu, since I'm still stuck on one of the house specialities. It's a great sandwich. In fact a guy came in and sat down just as mine was being delivered.
He quickly told his waitress as he pointed to my sandwich, "I'll have whatever he's having." It was even good enough for my wife, Glenda, to have twice in a row. That is something that she rarely does. It's the Grouper Sandwich pictured above.
I have tried their lemon-ginger-chicken soup which was also very good. On our second visit, we split an order of coconut shrimp which comes with spicy peanut dip and raspberry dip. Surprisingly both dips were very good.
The dessert tray looked deadly, but you can walk off dinner if you turn the ladies loose shopping in Historic Swansboro which seems to have an overabundance of shops that are good at keeping them happy while the guys go fishing.
Outside The Icehouse Waterfront has a couple of outside seating areas and a couple of interior ones .
It also has a bar and some Martini specials for those who care for alcoholic beverages. It is also next to the Tidewater Gallery where I have a few prints.
We continue to investigate the Icehouse's menu since we ended up buying a home in the area.
For more information you can call 910.325.0501.
The restaurant is located at 103 Moore Street at the corner of Front Street in Swansboro, North Carolina. It is on the water. The ocean is a little deceptive in this area. It's actually to the south instead of to the east of you. That's just one of the pleasant surprises of the Crystal Coast.