A Wet Midsummer 2014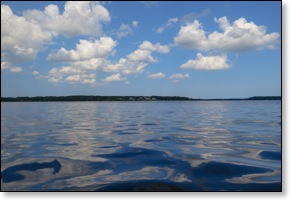 Days like the one in this picture have been harder to find this summer.


That particular blue water picture was snapped July 30, on a kayak fishing expedition on
the White Oak River
near our home.

As of Sunday, August 3, our precipitation total is
over 22 inches of rain
for the last sixty days with most of it coming in the six weeks since the middle of June.

Still It is surprising how many good days that we have enjoyed given how much it has rained.

Unfortunately our good luck ran out in the first few days of August.

As I write this late Sunday afternoon, August 3, I can say rain has been with us almost every moment since the morning of Friday, August 1. After three days, our August rainfall total is 5 inches.

I feel lucky enough to have gotten out on the water on July 30 and even luckier to have caught a couple of trout including
one 16.5 inch keeper
. Fortunately we got
a great sunset August 3
so there is hope for better weather tomorrow.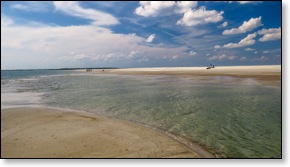 With all the recent wet weather, my last trip over to the beach was on July 17.

I hiked the Point area, one of my favorite spots. My hike was just a couple of weeks after
Hurricane Arthur visited the area
.


Arthur did not give us much trouble, but this has been one of those summers when you have to grab the good weather when you can.

The weather has brought us some nice beach days since
my Point hike
, just not as many as normal. During the last three weeks instead of articles about hot summer days, I have written more about
wet weather at the beach
than I like.

I feel bad about all the rain because
summer is already slipping away
and I certainly have not gotten my fill of it yet. I know our visitors want more summer. I am sure we will still get some
perfect beach days
but it is hard to image a beach day with
water standing in your yard
and five inches of rain in the first three days of August.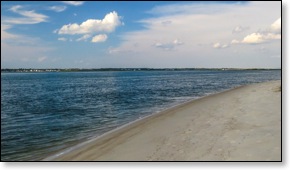 I feel lucky that only a few of the days with great weather have slipped by me.


Even with my work, I have managed some kayaking beyond those
Saturdays when I have been out on the water
.

When your
kayak is just on the edge of the water
, it is easy to take advantage of some sunshine and calm winds. While we have been challenged with rain, winds have not kept us at the dock very often this summer.

It takes me only
fifteen minutes of paddling
to get to my favorite fishing spots on
the oyster rocks of the White Oak River
. I usually let the current move me around at will once I am among the rocks.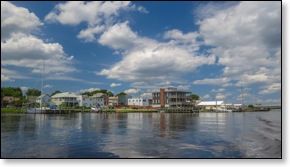 I have managed a few trips in our skiff, but again the wet weather has made it a little harder to plan for fishing trips over in the inlet.
This picture was taken on a particularly beautiful day when I decided to take a lunch time boat ride to Swansboro to break up my work day. This is a link to
some additional pictures taken on that trip
.
Boating in the summer
is a big part of life here on the Crystal Coast. I usually manage several early morning trips to the marshes for fishing in July but this year I have only gotten in one so far.
Those
blue water mornings
are special and I am still hoping to snare a couple before the summer is over.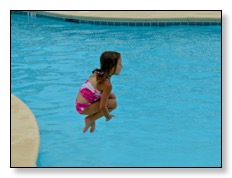 I am glad we were able to take advantage of some of the great earlier pool weather.


One thing we likely will not have to worry about this August is overheated pool water. Today when I stuck my feet in the pool water, it had cooled substantially.

We will be looking forward to the warmer weather that is forecast for the middle of August. Unfortunately many of our visitors with children will miss those days with schools opening soon.

However, those with flexible vacation plans can still hope for a spectacular fall like the ones we have enjoyed recently. Fall is the best time to visit if you can work it into your schedule.

You will find more articles about the Crystal Coast at my
Life Along The Crystal Coast Page
.

Our
July Crystal Coast Life Newsletter
just went out. It has local news and links to reviews of three new area restaurants. If you would like to subscribe to our almost monthly newsletter, just
click on this link
and register by providing your email address. Your email address is only used for the newsletter.

For the best information about the area head for
our travel guide
.


Why we love it here?

While no place is perfect, the Crystal Coast presents us with
many options besides beaches
that make life here very appealing.
Living by the water is not for everyone, but we really enjoy everything from
waves on the beach
to the warmth of
an evening on the beach
or even the power of the ocean you feel
standing in the surf.
The magic of the river or our other waters
is never far away. Sometimes
the big water calls
and other times I get
seduced by the river and the fog
. There are few places where you can have such wonderful
November days on the beach
.
In the summer there are times when
the heat will not seem to go away
but there are
ways to deal with the heat or humidity
and even
escape our paltry crowds.
We typically have plenty of summer weather, but we do have four seasons here including
some cold weather every few years
. That just makes the other three seasons besides winter seem even nicer.
My
Crystal Coast, Salt Water on Your Feet site
also has
a number of articles
for people considering a move to the Crystal Coast.
To make life even better here on the coast, I would recommend a visit to our wonderful church home at
Cape Carteret Presbyterian Church
. We love to have visitors especially during our monthly fellowship luncheons.
Our quiet spot sheltered by Bogue Banks, the Croatan National Forest, and the Cape Lookout National Seashore is a very friendly and scenic area with a great future. Right now it is the spot for us and sometimes I think I am living in a time and place that cannot survive the pressures of the modern world forever. I am just happy to be here now and able to share it with my children and grandchild.
This is
a link to a simple map of the area
. There are more detailed ones in our
Emerald Isle Travel Guide.