A good spot for sunsets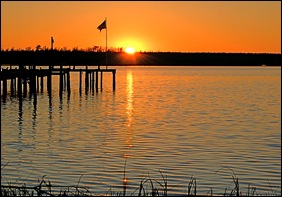 Once again we managed to calculate our day so that we could be in the right spot to take some sunset shots.
This time we were up the White Oak River visiting some friends in River Oaks Plantation.
It is one of my favorite subdivisions. Everyone seems to really enjoy living there.
They have a nice dock with boat slips, and a serviceable boat ramp.
Up in their section of the White Oak, they do not have to worry as much about oyster rocks as we do in the lower stretches of the White Oak.
And of course they have the most fabulous winter sunsets of any spot on the river.
There are also great live oaks scattered around their subdivision. Some are huge.
It is a great community if you are looking for a place to enjoy the great out of doors and be a little off the beaten path.