Crystal Coast Information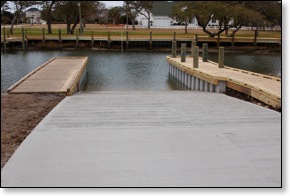 One of the things you need to enjoy the water is a boat. In order to get the boat into the water, you need a boat ramp.
It is always with great interest that we watch a new ramp show up or an older ramp get improved.
In the last few months, Cape Carteret has really spruced up the town ramp on Manatee Street.
My understanding is that if you are a resident of Carteret County, that you can apply for a permit, pay a fee and use the ramp.
I have not been over to the town hall to ask, but I have been told that the fees are graduated depending on where you live in the county.
The ramp also has a nice parking area for trailers and trucks.
I expect it will be a lot more popular now that it has been fixed up.
The sign by the ramp says that there is a $200 fine for using the ramp without a permit, I would make sure that I had the permit before my boat touched the water.