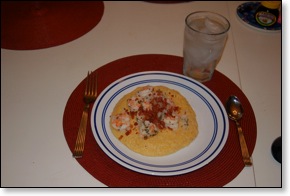 One of the things that you figure out over time is that every restaurant on the Crystal Coast has its own version of shrimp and grits. Since my wife loves grits and enjoys shrimp enough to eat them with grits, I have seen several different plates of shrimp and grits.
I have even had to give up my dinner on occasion when a particular recipe was too spicy for my wife. I love shrimp, and I have yet to see a dish that destroyed really good shrimp like we have here on the Crystal Coast.
This weekend we were coming back from a visit to the Core Sound Museum on Harkers Island. We stopped by the Fish Town fish market in Beaufort for some shrimp.
My wife had decided we were having shrimp and grits for dinner. All I could remember was the time back in 2006 when my oldest daughter and I cooked
shrimp and grits for my wife for Mother's Day
. My memory told me that it was an all day procedure.
Still i know that my wife has
a good dose of Southern cooking magic
running in her veins. That innate ability to make a meal quickly out of almost nothing is a skill that I believe you cannot teach. Number one they never measure anything, and the only cooking instructions are, "Cook until done."
When we got home, I started cleaning the shrimp, and quickly saw that the magic was actually a package of Southern Garlic Cheese Grits from Savor the Flavor of Sumter, SC.
Our recipe ended up being very simple. After cooking your grits about twelve minutes take a pound or so of cleaned, deveined NC shrimpand saute them in olive oil with some chopped onions (green ones if you have them) for about three minutes.
Spoon some grits on the plates, add shrimp, and some crumbled bacon for
an extraordinary meal in minutes
.
The meal only took a minimal amount of magic.
09/Jan/2009 13:42 Filed in:
Food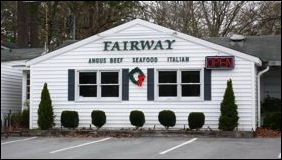 One of my absolute favorite things about the Crystal Coast has to be our locally owned and operated restaurants.
It is pretty easy to know who is cooking the food at these local spots. It is not unusual to find the chef or owner wandering the dining room.
We have been on the coast for over two and one half years. In that time we have found some places where we can count on them consistently providing an excellent meal.
Among the lunch places that we frequent, there are a couple that really stand out. One of them is the Fairway Restaurant at 833 Highway 58 which happens to be just before the spot where Taylor Notion Rd runs into 58 if you are headed north on 58.
All the restaurants along the coast have to work hard during the winter months when our population has shrunk. The best restaurants survive by creative cooking and delivering meals that are a great value.
Fairway excels in both cases. There is always something unique on their menu, and recently they raised their game with the introduction of family style dining. We have been a couple of times and been impressed. The charge for the country style meal is $9.99. Taxes, gratuity, and beverage are extra.
Tuesday night when we visited, we enjoyed ribs and pulled pork which came with tossed salad , mashed potatoes, and peas. They have also added all you can eat fish and shrimp on Wednesday night and all you can eat steak on Thursday nights. On Monday nights they are doing all you can eat pasta.
It is nice to have a cosy, friendly place like Fairway just around the corner especially for a comfort food lunch. This past Thursday they were running a thirty-five cents per chicken wing special when we dropped into Fairway for lunch. I love their teriyaki sauce which I get on the side. My wife had her favorite meal, chicken pastry. It was a $5.99 lunch special that included her tea. My wings could not have been better. I only wished that I had ordered some more to have while watching the national BCS bowl championship game.
So the next time you are driving through Cape Carteret, do yourself a favor and stop by Fairway for a great meal at a reasonable price.
If I can get a menu and permission to post the daily specials, I will do that.