A favorite lunch & dinner spot
09/Jan/2009 13:42 Filed in:
Food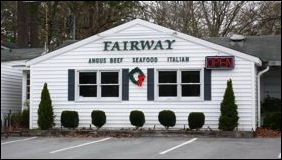 One of my absolute favorite things about the Crystal Coast has to be our locally owned and operated restaurants.
It is pretty easy to know who is cooking the food at these local spots. It is not unusual to find the chef or owner wandering the dining room.
We have been on the coast for over two and one half years. In that time we have found some places where we can count on them consistently providing an excellent meal.
Among the lunch places that we frequent, there are a couple that really stand out. One of them is the Fairway Restaurant at 833 Highway 58 which happens to be just before the spot where Taylor Notion Rd runs into 58 if you are headed north on 58.
All the restaurants along the coast have to work hard during the winter months when our population has shrunk. The best restaurants survive by creative cooking and delivering meals that are a great value.
Fairway excels in both cases. There is always something unique on their menu, and recently they raised their game with the introduction of family style dining. We have been a couple of times and been impressed. The charge for the country style meal is $9.99. Taxes, gratuity, and beverage are extra.
Tuesday night when we visited, we enjoyed ribs and pulled pork which came with tossed salad , mashed potatoes, and peas. They have also added all you can eat fish and shrimp on Wednesday night and all you can eat steak on Thursday nights. On Monday nights they are doing all you can eat pasta.
It is nice to have a cosy, friendly place like Fairway just around the corner especially for a comfort food lunch. This past Thursday they were running a thirty-five cents per chicken wing special when we dropped into Fairway for lunch. I love their teriyaki sauce which I get on the side. My wife had her favorite meal, chicken pastry. It was a $5.99 lunch special that included her tea. My wings could not have been better. I only wished that I had ordered some more to have while watching the national BCS bowl championship game.
So the next time you are driving through Cape Carteret, do yourself a favor and stop by Fairway for a great meal at a reasonable price.
If I can get a menu and permission to post the daily specials, I will do that.