Ephemeral Snow
21/Jan/2009 00:04 Filed in:
Weather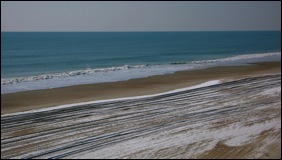 The snow storm which gave us about one half an inch of snow is long gone. The last snow flurries were around 10 PM last night.
The temperature did drop last night to around twenty degrees Fahrenheit. However, the bright sunshine is making short work of any snow that it can reach.
We are still just below freezing at noon today, but our driveway is bare as are most of the roads.
We drove over to Emerald Isle to see how the snow was doing on the beach.
It is a mere shadow of itself. One of my neighbors told me that he has been living here for six years, and this is the first snow that he has seen.
I guess a snow once every six years is not much to complain about especially since I did not have to shovel any of it.
We did make the
Roanoke, Va. weather blog
.