Fajitas at Las fincas
02/Nov/2009 22:52 Filed in:
Food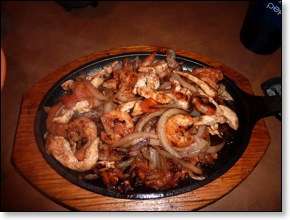 It is always a pleasure to have a new restaurant show up in town. It is especially nice when the food is great.
That happens to be the case with the new Mexican restaurant, Las fincas, in Swansboro across from the Ford dealership.
We have
visited Las fincas a couple of times
, but the fajitas and homemade tortillas have been so tasty that it was only on the second trip that my wife broke ranks and tried the fish tacos which were also tasty.
Fortunately we had some friends with us who tried the chimichangas. I suspect that Las fincas is going to do very well.
The completely redone interior makes it one of the nicest restaurants in the area.
If the crowds that we have seen there are any indication, their business is doing very well.
And on top of that, the food is reasonably priced which is again something we do not see a lot of in this area.