A seat in the sun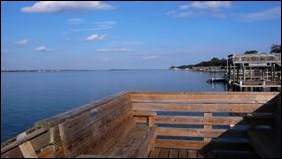 The recovery to our normal weather has hopefully started.
It might be a bumpy start given there is a large east coast storm slated for early next week, but we have blue skies and warmer temperatures.
We often go out in the afternoon to run errands. Emerald Isle is usually where we try to get our missions accomplished.
If you have a choice, why not go to the post office at the beach or the grocery store at the beach.
Of course taking advantage of Emerald Isle's nice bike/walking trail is another good reason.
When it is too cool for the beach as it was today, the bike trail is often warm enough to be very enjoyable.
Before we went for our walk we drove down Cedar Street which is just across the road from Captain Willis Seafood.
There is a small parking lot and a nice pier out into Bogue Sound. Today the sun was just right for sitting there and soaking up a few rays.
It was a nice spot to be. There was no breeze, the sky was blue, and it was very peaceful.
We have to soak days like that during the "winter."
We might see cold temperatures again next week, but all I needed for my walk was a sweatshirt.
I have to try to remember where I left my coat.