Clean-up at the Emerald Isle Valero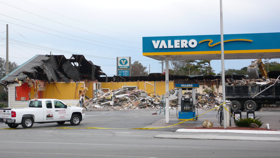 We were turned down Coast Guard Road for a visit to the point when we noticed that the Valero-Wine Mart that recently caught fire was being torn down.
We headed on out to the point to capture a few pictures.
When we came back, we stopped long enough to take a few shots of the excavator tearing down the burned out building.
It was very efficient and quick. When we drove by the next day, there was nothing but bare ground visible.
Based on what I have read in the newspaper, and how quickly the old building disappeared, it looks like they will have a new store as soon as possible.