Warm start to a wet day
17/May/2009 20:25 Filed in:
Weather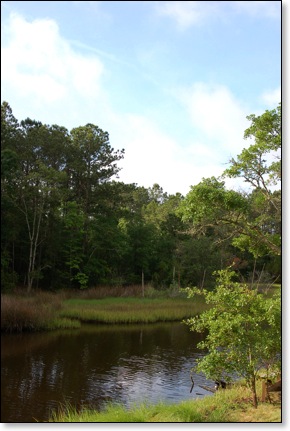 When I checked our window thermometer this morning is showed that our high temperature for the day was 82 degrees. Apparently we reached that around mid-night since we were only at 77 degrees when I got up at 7:30 this morning.
We had blue sky this morning and a nice breeze. We went to church this morning, and as we were walking back to our car, we could see dark clouds to the west. By the time we had driven the seven or eight minutes to get home the rain had started.
We have been through some relatively heavy periods of rain this afternoon, but nothing serious so far. Our rain gauge had about six tenths of an inch of rain in it at 6 PM, but we have seen some additional rain since then.
The big change when I went out to check the gauge was the temperature. By 6PM our temperature had fallen 17 degrees almost to the point of it no longer being shorts weather. Yesterday I was sweating on a beach, today I am glad we did not cool the house off last night.
We might have enough residual heat to make it through the cool spell. I suspect the real casualty of the rain will be the remaining strawberries. My guess is that this rain will finish them off.
We have had mixed luck with this years strawberries. They seem to have come out of the field very ripe. We had to throw away about one third of the ones we bought from Buck's Corner Farm.
I think everyone is quietly anticipating the return of the tourists. The beaches are still
uncrowded and peaceful
. The fishing remains slow with winds and weather not cooperating very much.
We are still wrestling with getting people to take advantage of
our electronic village
. The
sheet at the crossroads
seems to remain a favorite way of advertising.
Connecting Twitter to our
real estate listings
seems to be a good idea. Also using YouTube to post
virtual tours of area homes
is working.
Right now it looks like we will be returning to warm weather before the Memorial Day weekend tourist season kickoff. We are all hoping that this is a good season, our businesses need a shot in the arm.