Emeril's pots and pans become favorites quickly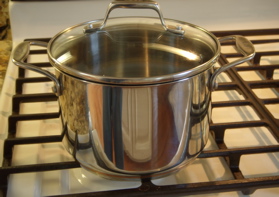 Setting up a new house means that you have to get some pots and pans. We have been operating with a hodgepodge of cooking gear for a long time. We decided to buy new pots and pans for the Carteret County spot. There are not a lot of places to shop in the area, so we got really familiar with the Belk's in Morehead City. We managed to get a 10% discount by applying for a Belk's card. We used the discount to buy many of our household items.
I was a little leery of the fancy stainless steel pots. I wondered if they would be hard to clean. That has not proved to be the case, though we have found that keeping some Bartender's Friend stainless cleaner is a good idea. One of the main reasons we went with the Emeril set was the sizes and design of the pots and pans seemed very practical.
Another reason was that we got a bonus free gift of a very nice but heavy cast iron grill pan that has proved invaluable since we do not have an outside grill yet.
It would be safe to say we are very satisfied with the Emeril cooking ware set. We do cook with gas so that might make difference in your choices.