July Fourth is history- July 14, 2010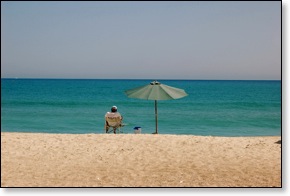 We had to work our way through some hot weather in the last few weeks, but most will agree that the July 4th week was nearly perfect weather.
I am still hearing people talking about the beautiful water colors that we have seen recently along the beaches and in the sound.
No one was sad to see the extremely hot temperatures disappear.
Everyone was glad to have our drought broken. In
Bluewater Cove
, we got three inches of rain in one storm.
Since then we have already had another 1.7 inches.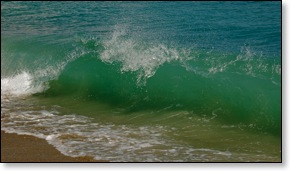 Speaking of beautiful waves and water
, I took some great wave picture up at Third Street beach last week.
I posted
a set of the wave pictures
on my Picasa Web Albums site.
The color and clarity of the water was just stunning.
It was one of those time to be glad that you are alive and able to enjoy such a beautiful site.
When get one of those perfect days, they seem to come in a series. This past Sunday was
another perfect Crystal Coast kind of day
.
I had a wonderful time and managed a bike ride, swim, boat ride, and long walk on the beach.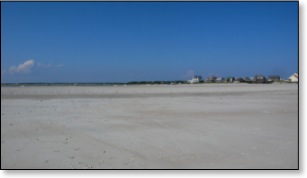 My walk on the beach took me over to the Point. It is no secret that many of us love that area of the Southern Outer Banks.
Sometimes I think that for those of us who live on the western side of the county that the Point is the heart and soul of the beach.
It is definitely a living, breathing, changing part of our geography.
The changing sand at the Point
is one of my favorite topics.
I regularly walk the area around the Point, and even I am amazed at how fast the sand is moving and accumulating.
My Sunday walk resulted in
another album of pictures of the Point area
.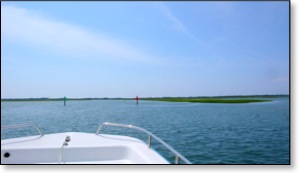 Since boating is one of the things to do in Emerald Isle area of the Southern Outer Banks, we took advantage of some nice weather Monday, July 12, and headed over to Hammocks Beach-Bear Island.
It has been almost three years since I made the trip. The last few years I have been concentrating on the Inlet and the White Oak River.
I was impressed by how well marked the channel from the Intracoastal to the dock at Hammocks Beach. You can roughly see the route we took in
this aerial photo
.
After we got over to the dock, we turned east and followed the channel behind the island. There was plenty of water in that channel. Mostly it was between six and ten feet deep.
When we got to the place where the trees and vegetation on the back side of Bear Island (Hammocks Beach) disappear, the water got a little more challenging.
It is right at this place that you used to be able to navigate to the other side of the island. From what I have been told it has been several years since that was possible.
We wanted to get to the Point, and luckily a fishing guide boat came by just at the right time. Their boat was up on plane so we quickly got up on top of the water and followed them.
Our course took us roughly north away from the island until we could see a channel buoy in Bogue Inlet, then we headed straight for that.
We spent some time poking around the Inlet, before retracing our steps to behind Bear Island where we anchored and fished for a while.
Fishing was slow. I caught a nice bluefish, and my partner, Brian, caught an undersized flounder and a mullet. At least we were not catching sharks on every cast like out last trip.
Of course I did
a guided tour with pictures of our trip to Hammocks Beach-Bear Island
.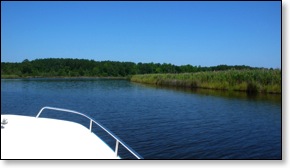 On the Sunday after July 4th, the water was really calling me, so I got in touch with my friends, Gail and Dean. They had never been up the White Oak River to where the houses disappear.
I enjoy going up the White Oak because there is almost no boat traffic, and it is a different world. The trip makes me thankful for the Croatan National Forest.
The White Oak River
where we live is nearly two miles wide. Up beyond the railroad trestle in Stella, it becomes a much narrower river. It is
a true blackwater river
which means it is very clear, and the river's origins are in the coastal swamps.
There is still plenty of water up beyond Stella, and it is much deeper than the lower river. Depths up river of sixteen feet or more are the rule rather than the exception.
We ended up going about
ten miles up the river
from the point I call the duck marshes which are just to the south of Stella.
We actually made it beyond
Haywood Landing
before I decided to turn around. I love the marsh grasses and the bald Cypress trees which eventually get right in the water.
I have not posted the pictures yet, but you can enjoy
an older photo trip up the river
.
It is almost five miles up the river from
Bluewater Cove
to the duck marshes. After we came back from up the White Oak, we cruised down to Swansboro.
The ICW was crowded so we headed home. We ended up doing approximately 36 miles on some beautiful waters that most people never get to see.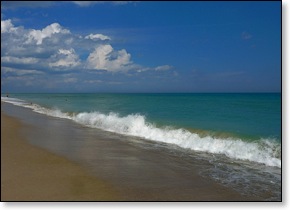 All in all, it has been a great month to be on the Crystal Coast. Whether I have been
enjoying our coastal river
, the White Oak, walking the beaches, fishing, or just relaxing, it is hard to complain very much.
I have also had some
fantastic treats from the sea
. Now that the sharks have moved on, perhaps we can start having our own great fishing season. There is plenty of bait swimming around so the fish will be here soon.
While there was some traffic backup around July 4, everything seems to be flowing smoothly now.
I suspect today's clouds and rain will not last long. In fact the rain stopped long ago. Now we just have clouds.
Considering the sun has hardly been hidden behind a cloud for the last two months, that is not too bad.
I would have to say at almost the mid-point of summer, things look pretty good from the Southern Outer Banks. With
Bogue Sound watermelons being ripe
, we know that this is the heart of summer.
Come visit, there are plenty of things to do in Emerald Isle and along the Crystal Coast.

Why we love it here?

It is hard to say that any place is perfect. There always a balance between what you like and what you don't like. That also changes as you age. At one time I was close to homesteading in Newfoundland.
Today I would steer you to my articles,
Ten ways Carteret County met our needs
,
Why I love living in Carteret County
, and to the
Crystal Coast Electronic Village Homepage
as answers to why we have chosen this area.
From that reading it is easy to understand why we enjoy living in a small subdivision called
Bluewater Cove
near
Cape Carteret
. It is what we were looking for in a place to live. It's close to services and close to the beach but not on the beach. We have a dock behind the house and are close to some
great trails
. I can ride my bike in the neighborhood and not face a lot of traffic.
I also use my kayak on the White Oak River and have learned to love
exploring the river and surrounding waters
with our skiff.
This area also has some great festivals like the
Newport Pig Cookoff
, the
Emerald Isle Saint Patrick's Day
, and the
Swansboro Oyster Roast.
We were also impressed with the
Emerald Isle Christmas Parade
.
It is a friendly area with a great future. So right now it is the spot for us. I often write about the area in my other websites. If you are a very avid reader, you might find some content on multiple sites, but usually the content is fairly specific to the sites.
These are additional sites not mentioned in the above post.
Ocracoke Waves
Crystal Coast Blog 09
Crystal Coast Blog 08
Some archived articles