Summer Still Here 9/22/11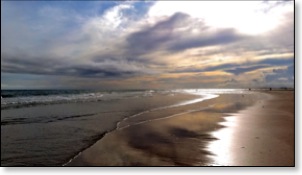 September has been warm and dry here on the banks of the White Oak River until the afternoon of September 20 when we
got 3.5 inches of rain
.


All the signs of summer, including heat and humidity, are still here.

We are only missing large numbers of visitors. Other than the five o'clock rush the grocery stores are quiet.

We still have people sunning on the beach, but we have a lot more people fishing on the beach, and we also have
vehicles on the beach once again
.

Things are mostly back to normal after Irene. There are still debris from damaged trees around, but it is nothing like it was three weeks ago.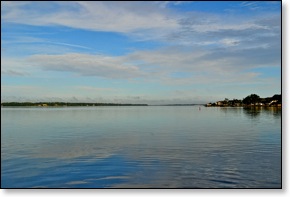 This picture to the right was taken on the White Oak River near the Red Sixteen Buoy. The view is to the north.


We have had more quiet water on the river during September than we have seen all summer.

It is has been nice to hop in the skiff early in the morning and go for a ride down to Swansboro.

There are few things in life as nice as a fast, early morning ride down a empty coastal river.

With the water still hanging into the lower seventies, I expect to take a lot more rides this fall.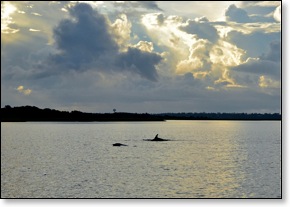 There are not a lot of boats out on the water early in the morning, but you often run into some of the natives out looking for breakfast.


I snapped this picture in the channel just south of the ICW near Huggins Island. I was fortunate to see five or six bottle nosed dolphins work the waters.

One of my pictures caught
a dolphin grabbing a fish out mid-air
. While I wish I had been using my telephoto lens, I still am pretty happy with the results.

It was an amazing few minutes watching the experts clean up on fish.

I posted these
additional photos of my morning in the marsh
with the dolphins.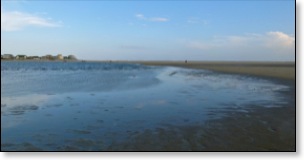 We are still measuring the effects of Irene on area beaches. The picture to the right was taken on the Point at Emerald Isle.


The picture shows the water at the end of Coast Guard Channel where it used to cut across the Point.

I have done some
extensive hiking on the Point
since Irene's visit. I did some rough calculations which show there might be as much as
twelve acres of new sand
on the Point at low tide.

Whatever the real number, the Point continues to be an amazing place to get away from the rest of the world. It is a great place to think.

You can find some quick links for planning a beach vacation or considering the area as a location for a second home at
my Welcome to the Beach site
.

If you have already made up your mind to come for a visit, you will find
my updated Emerald Isle Travel Guide
very useful.


Why we love it here?

It is hard to say that any place is perfect. You have to accept a balance between what you like and what you don't like but can tolerate. All of that changes as you age. At one time I was close to homesteading in Newfoundland. That is a little too far off the beaten path for me in 2011.
For thoughts on where to live, I would steer you to my articles,
Ten ways Carteret County met our needs
,
Why I love living in Carteret County
, and to the
Crystal Coast Electronic Village Homepage
as answers to why we have chosen this area.
My
Crystal Coast, Salt Water on Your Feet site
also has
a number of articles
for people considering a move to the Crystal Coast.
You will also find links to lots of pictures and information at
my new Crystal Coast Life introduction page
.
If you could spend the day with me, you would understand how easy it is to enjoy our lives along the White Oak. Living in a small subdivision near
Cape Carteret
isn't everyone's cup of tea, but it is a great place to boat and relax. Bluewater Cove is truly what we were looking for in a place to live. It is close to services and even closer to the beach but not on the beach. We have a dock behind the house and are close to some
great trails
. I can ride my bike in the neighborhood and not face a lot of traffic.
I also use my kayak on the White Oak River and have learned to love
exploring the river and surrounding waters
with our skiff.
This area also has some great festivals like the
Newport Pig Cookoff
, the
Emerald Isle Saint Patrick's Day
, the
Swansboro Mullet Festival
and the
Swansboro Oyster Roast.
We continue to be impressed with the
Emerald Isle Christmas Parade
.
It is a friendly area with a great future. So right now it is the spot for us. I often write about the area in my other websites. If you are a very avid reader, you might find some similar content on multiple sites, but usually the content is fairly specific to the sites.
These are additional sites where you can find even more information.
Crystal Coast Life
Ocracoke Waves
Crystal Coast Life Blog
Crystal Coast Blog 09
Crystal Coast Blog 08
Some archived articles