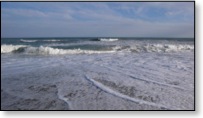 Thirty eight years ago was the first time I got to drive on Emerald Isle's Beaches. There was nothing at the point then but surf, sand, and my dream to live in the area some day.
Today I'm not only living just a few miles from Emerald Isle in Bluewater Cove on the White Oak River, but I have the opportunity to help others find a piece of North Carolina's Coastal Paradise. I spent nearly three years looking for our own place.
I enjoyed the process so much, that I decided that I wanted to become a real estate broker.
I hope I can help you find your spot in the sun. Check out my article,
Timing real estate decisions
. I wrote it to help people understand how long the real process is and why now is a good time to start looking.
I am enjoying my new career as a Realtor®, but I would have to say that I end up working a lot because the surroundings are so pleasant. Who wouldn't want to preview some of the wonderful beach and retirement homes that we have along the Crystal Coast?

My real job is writing about the Crystal Coast

Since leaving my corporate career at Apple, more than anything else I have written about places and things that I love.
I might be considered an unusual sales person since photography, writing, and fishing are my passions.
The biggest difference between me and most Realtors® is that I am not really interested in selling you anything. I will provide you with more information than you can imagine.
My view is that the Crystal Coast is a wonderful area. If you aren't convinced after a visit and from all my pictures and articles, then no amount of selling is going to change your mind so why should I beat my head against a brick wall.
My job is to find the right spot for those you have sold themselves on the area and can afford to live here. My help will perhaps get you the spot closest to your dream one. If I can't help you, I will tell you so. It is as simple as that.
If you have made your mind up to look for property on the Crystal Coast, and you don't take the time to at least to
get in touch with me
, you will never know what a great job I can do.