Spring winds, April 21, 2009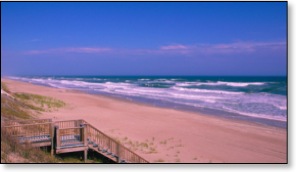 Spring weather sometimes frustrates as much as it excites us.
We have had
plenty of rain
in the last week, but with the rains we have gotten our share of wind.
I might have gotten out some with my boat, but the winds have kept me at my dock and my fishing poles in the garage.
If only I could arrange my work around the few hours good fishing weather that we have seen.
Blue skies got us over to the beach anyway on Monday. The air was warm, but the winds were strong. There were only a few people out walking
I made
this YouTube video of the shore
. Tuesday, when I wrote this, the winds were still blowing so I did this "
Windy Day
" movie from our deck.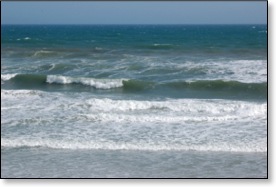 While the wind and waves have kept us at the dock. There has been plenty to do here on the coast.
The warm temperatures have gotten people outside to enjoy the sunshine and work on their yards. We have managed to go on some hikes along the Croatan trails.
We also did the Emerald Woods Trail with a friend who is confined to a wheel chair. He had a great time especially on the dock where he got to take pictures across the water.
If you want more information on area trails, check
my trails web page
.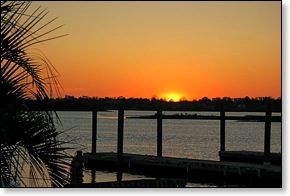 We continue to have some great sunsets. This picture was taken last week at Dudley's Marina in Swansboro.
Fortunately we seem to be getting to the end of the worst of the pollen. When it rains, there are no longer pools of yellow at the end of our driveway.
With the warming weather, my tomatoes have done very well. I protected them from the wind with a few bales of pine straw, and they rewarded me with
blooms about a week ago
.
Things are going to get even bette. From Wednesday, April 22 through April 30, our temperatures are supposed to be in the upper seventies with some days even getting into the eighties.
That should warm the waters, give the tomatoes a growth spurt, and finally get us on the way to summer.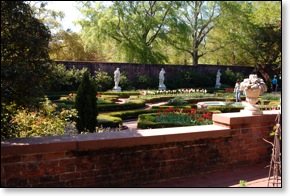 We did make our annual trip to Tryon Palace. We took advantage of last week's free admission to the gardens.
This picture was taken in the Englsih formal gardens. We got to the gardens a little earlier this year so we got to enjoy the tulips before they started drooping.
If you have never been to Tryon Palace, it is well worth the trip to New Bern. You can check my
Tryon Palace slide shows
to see what awaits you. The vegetable garden slides are my favorites.
As long as you are in New Bern, I can recommend
Moore's Old Tyme Barbecue
on Route 17 headed east just before it joins Route 70. The barbecue, fried chicken, and fried oysters are all very good.
If you happen to be downtown New Bern, try
Captain Ratty's
at 202 Middle Street. Just thinking about their oysters makes me hungry.
Being grandparents, we found a great toy store while walking on Middle Street. Snap Dragon is the name of the store, and it has some really neat toys. It might be my favorite New Bern store.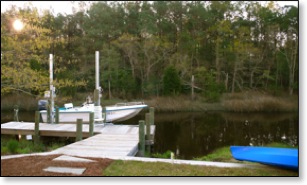 It has been fun watching things turn green. This picture of our dock was taken a couple of weeks ago.
The oak just to the left of the dock had barely leafed out and the leaves were hardly green. The "
Windy Day
" movie mentioned earlier in the post has a view of the same oak taken this afternoon.
It has a full set of very green and healthy leaves. My banana plant might be sending up a shoot. I know that my winter hardy hibiscus is showing some growth.
In spite of the cold winter, I think things look pretty good. I put ironite on my centipede grass the other day so I am practically ready for summer except for my first salvo in the ant battle.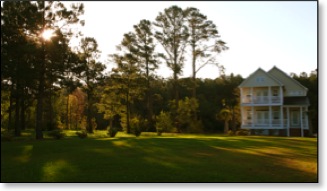 The yard is starting to look green. So far we do not have anything like the dead spots that we had last year.
I certainly will not miss digging out old sod and replacing it with new. I would rather focus on fishing if the winds will ever die down.
This past week we had some friends down which is how we ended up sampling restaurants in New Bern.
Having visitors is a good lesson in
how to be a local expert and guide
.
We are looking forward to additional visitors this week. Having regular visitors is one of the pleasures of living here on the coast.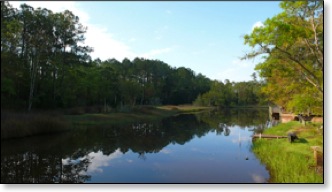 While we have seen plenty of wind in the late mornings and afternoons, the water and winds been quiet in the mornings.
You can usually count on great conditions when you are stuck at the duty desk at work. I have had plenty of time to work on
my real estate site
. There are
some great listings
there.
If you are thinking about making a move to the Crystal Coast, you might enjoy my post on
doing the numbers before a move
. It compare different living costs.
There are a number of posts dealing with moving to the coast at
that same site
. This is a great place to live.
Our kids live in the metropolitan areas of Northern Virginia and Charlotte. Their news always
makes me appreciate Carteret County
.
We live in a spectacularly beautiful area with little crime, lots to do, mostly great weather, and
plenty of fantastic food
.
There is not much more that you can ask for in these tough times especially
when beach days are on the horizon
.
I am doing a couple more computer seminars at Emerald Isle Parks and Recreation.
One on the evening of April 28 is a free follow-up seminar to one that I did on getting photos from the shoebox to the web or a DVD. It will focus on picture editing and making movies.
The other seminar on May 19 will be an introductory one on how a normal person can use some of the best practices that I have learned to safely enjoy the Internet and take advantage of many of the great and often free technologies that are out there. That seminar will have a $25 fee.
If you are interested drop me a note, and I will send more you more details.

Why we love it here?

It is hard to say that any place is perfect. There always a balance between what you like and what you don't like. That also changes as you age. At one time I was close to homesteading in Newfoundland.
Today I would steer you to my articles,
Ten ways Carteret County met our needs
,
Why I love living in Carteret County
, and to the
Crystal Coast Electronic Village Homepage
as answers to why we have chosen this area.
From that reading it is easy to understand why we enjoy living in a small subdivision called
Bluewater Cove
near
Cape Carteret
. It is what we were looking for in a place to live. It's close to services and close to the beach but not on the beach. We have a dock behind the house and are close to some
great trails
. I can ride my bike in the neighborhood and not face a lot of traffic.
I also use my kayak on the White Oak River and have learned to love
exploring the river and surrounding waters
with our skiff.
This area also has some great festivals like the
Newport Pig Cookoff
, the
Emerald Isle Saint Patrick's Day
, and the
Swansboro Oyster Roast.
We were also impressed with the
Emerald Isle Christmas Parade
.
It is a friendly area with a great future. So right now it is the spot for us. I often write about the area in my other websites. If you are a very avid reader, you might find some content on multiple sites, but usually the content is fairly specific to the sites.
View from the Mountain
Ocracoke Waves
Crystal Coast Living Blog
Crystal Coast Blog 09
Crystal Coast Blog 08
Some archived articles
More Crystal Coast Info