15/10/09 20:36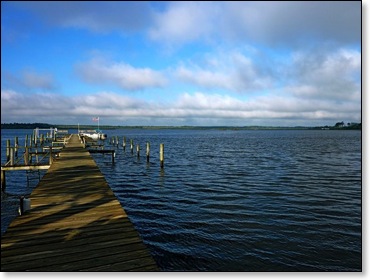 The standing weather joke here on the beaches is if you do not like the weather, hang around for another five minutes while it changes.


While I would say that I am all for change when it is raining, I have to argue that we have plenty of great weather here on the Crystal Coast.

While there are never guarantees on the weather, we do not see many days when it rains all day. We do see a fair number of days when we have to "endure" blue skies and nice temperatures. We tend to forget those when we run into a rainy spell.

While you can never have enough great days like we had this Wednesday, I suspect that we all can use a rainy day now and then to catch up with our paper work.

Of course if you are a dedicated fisherman, good weather is a relative term which depends on how well the fish are biting.

Last week even with working a few days, we managed three great afternoons on the water. There are not many places where water access, fish availability, and weather cooperate as well as they do here along the Crystal Coast.

If you can find a way off from work, you can be fishing somewhere in a matter of minutes. I had a couple of brook trout streams on my farm when I lived in Canada. Getting to the fish here is far easier than it was in Canada. I also lived in Roanoke, Virginia which has a trout stream running through the city. Fishing in Bogue Inlet is easier than that was.

While our weather does change a lot, our fishing waters are often close enough that we can fish, and if the weather starts looking questionable, it is only ten minutes to our home dock and safety.

Where most areas force you to drive for miles to get to fishing water, here in Carteret County no one is very far away from the water. If you are lucky enough to live in Cape Carteret or any of the many water access communities, getting your boat into the water is no big deal.

There also area a number of county residents who have managed to snare spots along the water where their boats are on lifts. If you really love to fish and want to do it at a moment's notice, there is no better way to do it. Since my skiff is right behind our house, it takes me less than ten minutes to load the skiff and do a check before we head out on the water.

It the weather is good, and I want to go fishing, fishing usually happens as long as I am not scheduled to work.

It is a pretty simple equation if you live down here, you do not spend hours on the road getting here. You also get the advantage of waiting for the good weather days to go fishing.

It turns out that with the drop in real estate prices, you can find a home in a water access subdivision for much less than you might imagine. If you have ever thought about having a second home where you could access the beaches and fish until your heart is content, now would be a good time to start looking.

I knew that I loved the area when we moved here, but I had no idea how comfortable I would feel living here and fishing the waters of Bogue Inlet and the White Oak. We almost always catch something, and even when we catch very little, we are fishing in one of the most beautiful areas on the east coast. Especially if you get one of those great weather days, it is a time you will probably never forget.

Every once in a while down here, you strike it rich fishing and have
one of those once in lifetime fishing days
.

As I am driving real estate clients around, I tell them that the only way that they can see the main street of the Crystal Coast is to get out on the Intracoastal Waterway. I can assure you that Cape Carteret and Cedar Point look very different from the water than they do from Highway 24. We are water communities with fishing at our fingertips.

The other thing that really impresses me about the area is that if you get tired of fishing in a boat or the weather is not right, you have the option of surf fishing or fishing from the pier.

I even fish from my kayak when I want to fish some marshy areas where it is hard to take the skiff. The nice thing about fishing here is that you can define your own success. To me the other day, it was catching
just enough spots for a dinner
with my wife. To a fellow from Kentucky that I met at Captain Sam's Shrimp Market, it was catching 291 spots from their boat this past Tuesday.

It you love to fish and want to be able fish more and do it in a safe area with a sustainable fishery, the Crystal Coast is a pretty good spot to consider.

Even with the fall roller coaster of weather, people usually get their quota of fishing in each year.


12/10/09 20:39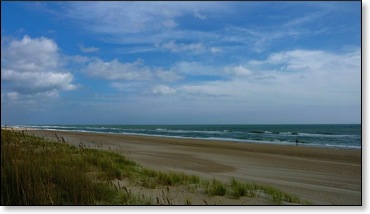 While most of the country is looking at winter in their rear view mirror, here along the shores of Bogue Sound, we are still enjoying what can only be called
summer in October
.


It happens to be one of those things that is a whole lot easier to catch if you live here instead of just come here as a regular visitor. Even the best weather forecasters have a hard time predicting it until all of the sudden we are enjoying temperatures in the mid to upper eighties. A good portion of the end of last week could be called summer weather.

Many of us made the most of it, disappearing for whole afternoons to enjoy the warmth on the water. I know that I had a couple of great days of fishing and fun on the water. I missed Saturday, the last of this recent stretch of summer. Sometimes even those of us who deliberately go without a watch on our wrist get caught and have to work.

One of the secrets to our weather is that we live next to a massive amount of water which once it warms up is very reluctant to cool down. That warm water makes fall a real treat here on the Southern Outer Banks, especially for those of us who are residents.

The weather in October and November can be tricky. We cooled off this Sunday, and it was overcast all day today, but our temperatures are still in the sixties and seventies which is not very hard to take considering parts of the west never made it past twenty degrees Fahrenheit this weekend. Staying that cold is easy to do if you have two feet of snow on the ground like they do in the mountains of Montana.

For many of us, this great fall weather is
why we live here
. It is really almost a perfect situation living along the coast. North Carolina is such a varied state that it you want to look at some fall leaves and mountains, all you do is get in your car and drive six hours. There are plenty of colorful leaves to see and lots of fall festivals. This being the south even in the mountains
the peak color of the fall leaves
does not happen until sometime between the third week in October and the first week of November.

After a quick trip to the chill of the NC or VA mountains, you can come back to the coast, take your blue jeans off and put your shorts back on, and if you are lucky, enjoy some of that summer in October. There are many of us living on the coast who sneak off to the mountains on a regular basis. My theory is that it makes me appreciate the coast even more when I come back.

This is a time of year on the coast when there is so much happening that you just hope that you can
keep these days of great weather coming
. Just this weekend we had
Saint Francis by the Sea Lobster Festival
and the
Swansboro Mullet Festival
. If you looked a little farther away you would have noticed Mumfest in New Bern, but we have never been able to drag ourselves away from our local events.

On top of all the festivals, this is the season to fish and because of where we live fishing is in the air and is not optional. In spite of heavy surf I fished in the surf once earlier in the week and then managed to fish from the skiff for two afternoons when the weather really got nice. We were not alone, and we did catch fish. The fewest boats were counted early in the week when there were only around five on each side of the bridge. On Saturday when we crossed the bridge to Emerald Isle at noon, my wife counted forty boats just on one side of the bridge.

Everyone was having a good time on the water except the barge pilots who had to convince all the boats anchored in the Intracoastal to move out of their way.

In addition to boating, lots of people were walking on the beach, and yesterday we even saw a game of beach volleyball going on at the Western Regional Access.

So now you know the secret of the Crystal Coast. The reason we do not mind sharing the beaches in the summer is that we have kept the best season, fall, to ourselves. Our fall weather is one of the great reasons why so many people fall in love with the area and end up living here.

If you have caught the bug for living here, rest easy. It does not take long to become a local, especially in the fall when you cannot hide among the visitors. Even the most hardened city dweller usually becomes friendly after walking on one of our beaches a few times.

If you cannot join us as a local, come for a fall visit, you might get lucky and snag one of those summer in October or November weeks. If not, the fish will surely be biting.