30/11/09 22:36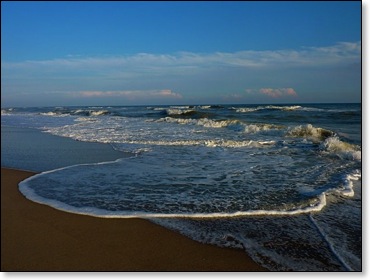 Though this question could be considered an easy pitch, I am going to treat it seriously and try to look at the positives and negatives of living here on the Crystal Coast.


My wife and I have been living here a little over three years, so the experience of switching from almost city living in the mountains to small town living on the coast is still fresh in our minds.

We have also lived in the DC Metro area and in Canada, both in a city, Halifax, and in what most would call a wilderness. That gives us a pretty broad perspective on living conditions.

When we made our move to the Crystal Coast, it was after three years of looking and a lot of consideration. So far we are very pleased with our move, but what made us happy in our move might not work for you in your move.

In picking our new home one of the primary driving factors was access to water and actually a view of the water. We once lived high on a hill over looking Halifax harbor and enjoyed seeing the water immensely. Our thoughts were that if we were going to move to the coast and give up our panoramic view of the Blue Ridge mountains, that we wanted to see some water.

That turned out to be one of the hardest requirements to fill, but the Crystal Coast turned out to have some of the most reasonably priced water views and communities with water access. When you start looking at real estate in Carteret County, you will soon hear the term "water access community." It simply means a community where there is some sort of deeded access to the water. It can be as simple as a point of land where you stand and look at the water or it can include a boat ramp and day dock among other things.

My dream was to actually have a house on the water and to have my skiff on a lift behind the house so I could easily go fishing without having to worry about using a trailer to launch my boat each time. There are many homes in Carteret County with lifts, but most of the owners know that they have special waterfront properties.

We also had to reconcile my dream of a boat with my wife's desire to walk on the beach without a lot of trouble. We looked at a number of homes very close to the beach, but at the time we were looking it was very hard to find a home with a water view that was also close to the beach without paying a lot more than we wanted to pay. Also by living over on the beach, we had to give up the boat on a lift unless we found a soundfront home we could afford.

So we ended up in Bluewater Cove, a small subdivision on the White Oak River about ten minutes from the beaches of Emerald Isle. We got our dock and lift behind the house.

Living in Bluewater Cove puts us in close proximity to Cape Carteret, Cedar Point, and Swansboro along with Emerald Isle. Any additional shopping we tend to do in Morehead City which is only twenty minutes away. Jacksonville and Target are thirty minutes from us, and New Bern is forty-five minutes.

We were looking for an area where we could be active with hiking, biking, and walking. We were not looking for night life or lots of shopping. We did want modern services that stayed open all year with some choice in where we might shop and go out to eat.

We also wanted a friendly and safe environment where we could find a nice church and make friends. Finally we wanted to locate in a safe area of reasonable growth, not a place cut off from the rest of the world.

So how has our move to the Crystal Coast matched our desires? In general we have found exactly what we hoped to find and more.

From the fresh seafood shops to the small family owned restaurants, we have been surprised by how quickly people end up treating you like a local. We also found a great small church where we are very happy. Our subdivision continues to be a great place to live, and a place which I believe will weather this real estate storm very well.

We heard from many about the tourist traffic. As someone who regularly fought the Washington beltway, I can honestly say the traffic here is really not a big issue. It might be inconvenient for a few days during the summer, but it is never like it is in a big city.

Having to share our grocery stores with tourists during July and August means making a few adjustments to when we shop, but it is a small price to pay for the revenues that tourism brings to our local businesses. I believe we have far better services in the area because of tourists so I am thankful for them and pleased that almost all our local business stay open the whole year.

As to night life, there are places to go here in the evening, but Ballyhoo's Sport Bar is about as exciting as we get. Having night life in the area was not part of our equation when we were looking, and that has not changed.

Shopping has turned out to be a non-issue, but that perhaps has something to do with our age, and the fact that we do not shop a lot except for our granddaughter these days. Still Morehead City continues to grow and has added a number of shops including Best Buy and Panera Bread since we moved here.

I am somewhat disappointed in the local movie theater on Emerald Isle as we used to go to the movies at least once a month before moving. Now it is very rare when we go. There are other nicer theaters in the area, but the drive is more than we consider worthwhile for a movie.

We are pleased to see more medical facilities in the area with the announcement of a radiology clinic to be built in Cedar Point in the coming year. We had to use the emergency medical services once, and we were very pleased with their speed response.

I am also very excited about the award that Croatan High School got last year as one of the top high schools in the country. I think education is a priority in Carteret County.

Beyond those things, we have found the area to be a place where the ocean and waters of the river easily become part of your life. When I started as a novice boater in 2007, I had no idea that I would feel so comfortable on the water in such a short time. Between kayaking on the White Oak and fishing in our skiff in Bogue Inlet and off the beaches, I have had a wonderful time on the water. I highly recommend it to anyone who wants a new hobby that will bring great rewards and take you to some of the most beautiful places on earth.

And on top of that as I am writing, I can look out my office window and see the water whenever I want.

It has been a great move for us, we have gotten warmer weather and escaped the snow and ice. I am now eating fresh tomatoes the first week in June each year. I will not complain about the strawberries in March and April or the easy access to fresh shrimp and other fresh seafood right off the boat. I absolutely love not wearing a coat most of the "winter."

I am hoping for some more economic growth in the area, but as far as I can tell, that is pretty consistent across most of the country. It will come, the area has too much to offer for it not to happen.

So if you are looking for a scenic place to live and can work from anywhere, the Crystal Coast is once of the nicest water paradises that I have seen. We still have room for you.
29/11/09 22:40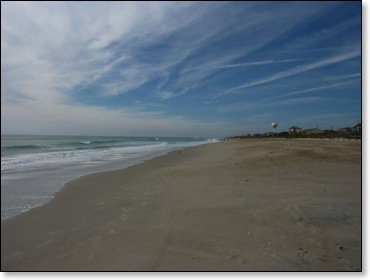 Lots of people go to the beach for a vacation or a holiday. When those of us who live along the Crystal Coast head back to the beach, we are actually going home.


While we often enjoy the holidays at the beach, this year we headed off to our other home in the mountains of Virginia. The holidays often help us understand that the people in our lives are more important than anything else.

Yet when it is time to for everyone to head home, it is inevitable to start transitioning your thoughts from one place to another. Going home means getting back to your regular routine. When you have been gone several days, there is always some excitement about seeing what has changed. When the beach is home, and you head for home, it turns out to be a pretty special journey.

Thanksgiving for us this year was in Roanoke, Virginia which is a nice city along the Blue Ridge Parkway in Southwest Virginia. Our second home there is on the side of a mountain at something over fifteen hundred feet above sea level. The views are great, but I always feel a little isolated up on the mountain.

So as I think about heading home to the beach, one of the first things that comes to mind is that going for a walk will involve a whole lot less dedication that walking our hill in Roanoke. As we head for the beach, we gradually leave the Blue Ridge Mountains, drive across the Piedmont, and eventually hit the coastal plan near Interstate 95. We go from a very three dimensional world where being on a mountain lets you see for miles to a world where even hills are few and far between.

That turns out to be a relief for me. While I have walked our hill many times, it never got really easy, and in winter there were times when it was pretty treacherous. As we head to the beach I know we are leaving behind snow and ice which might trap us on our hill during the winter.

People often associate winds with the beach, but in our case we live tucked away a few miles inland, and we often miss the worst of the winds. That turns out to not be the case up on the mountain. During Thanksgiving we had winds for three days. There were gusts to thirty or thirty five miles per hour. Wind is something you get when you live on the top of a ridge in the mountains.

Heading towards the beach also means warmer temperatures and most likely less wind. We will be able to get back outside and enjoy a few walks. Of course we are leaving all the shopping that a city has to offer just as Christmas is about to roll around once again. That turns out to not be a huge issue. Much of our shopping has moved online over the years, and even as that has happened, Morehead City has become a much more well endowed shopping area. I am not one to worry about shopping very much anyway, so there is no remorse in leaving behind a few extra big box stores.

While our Thanksgiving meals focused on turkey and ham, now that we are once again headed home, I can start hoping for some seafood. The fruits of the sea are one of the great pleasures of having a home along the coast. Dropping by a fish market means you are likely going to enjoy some great sea food. It might just be time for some clam chowder.

Finally as we head back to the coast, we will be watching our family members spread out to their homes just as we drive back to check in with our coastal friends. I am looking forward to catching up with folks we see everyday on the coast. Carteret County is a warm and friendly place and that makes it an easy place to call home.

I also cannot wait to stand on my dock and look out towards the river. If the warm weather holds this week, I just might go for a boat ride. I hope we can get in a beach walk and maybe a little surf fishing. Of course I will have to slide all this in between my work.

Going home to the coast is just like going home anywhere except it seems better because we have all those wonderful things that make our area such a great spot to vacation.