01/04/10 23:20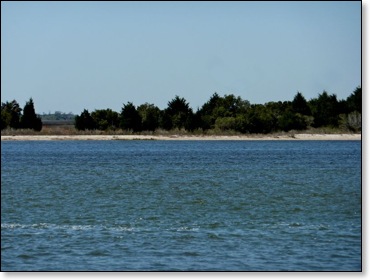 If there is a kickoff for the beach season, it is Easter weekend. This year someone ordered up some nearly perfect weather to help all of us forget the really nasty winter weather that bedeviled us for several months.


Actually part of the east is still being cursed with extraordinary precipitation. A friend in Massachusetts told me tonight that in her sister's neighborhood only one out of six ways out was still above the flood waters.

My college roommate who lives on the New Jersey shore has complained about continuing wet weather and temperatures in the forties at night.

So if you are in one of the areas not blessed with good weather this first week in April, the Crystal Coast is ready for you, and now would be a really good time to come visit.

You might be surprised with how blue our skies can get during the day, and how many stars you can count at night.
A lot of people have never heard of the Crystal Coast, and even more have never taken the time to visit. I have never heard exactly why the area is called the Crystal Coast. My personal theory is that
the name comes from the crystal clear waters
.

If there is one thing that is for certain, it is that the Crystal Coast is
all about the water
. Easy access to water is why many of us who live here permanently moved to the area. It is also why the area is favored as a vacation area for natives of North Carolina.

This is a place where you can walk the beaches without being surrounded by miles of high rise towers. There are three really large regional beach access areas with free parking. One is at Fort Macon near Atlantic Beach, and there are two in the town of Emerald Isle. There are other smaller ones spread out along the beaches.

Of course if you are staying in a home along the beach, there are dozens of neighborhood beach access points within walking distance. These are marked with CAMA signs. So getting to the beach is not a problem, and still it is a surprise to lots of folks from up north, there is no beach tag required on our beaches. You can walk as far as you want on the beaches, and no one will bother you.

Beyond the beaches, boating is considered fundamental to the enjoyment of life here on the coast. Carteret County is one of the best places to go boating on the east coast. We have a very long protected stretch of the Intracoastal Waterway that runs right through the county. In addition to that Beaufort Inlet and Bogue Inlet are two well marked routes from the ICW to the ocean. Just riding down Bogue Sound from Swansboro to Shackleford Banks is
a beautiful trip
. I often tell visitors that our real main street is the ICW. If you had rather paddle your away around, this area is great for kayaking. The waters near Beaufort, the Hammocks Beach area, Bogue Sound and the White Oak River are
all wonderful places for kayaking
. And those are just a few of my favorite spots.

Along with walking the beaches, kayaking, and boating comes fishing. Even some of the area drug stores sell fishing tackle, so you know that fishing is near to the hearts of many county residents and visitors. From flounder, trout, bluefish, spots, croakers, to red drum, the area is a great place to fish. Fishing is another one of those reasons to live in the county. There are few places where you can
go fishing early in the morning
in the ocean, catch some Spanish mackerel, clean the fish, shower and be at work by nine AM.The Crystal Coast is one of those places. If fishing from boats is not your thing, we have miles of beach for surf fishing and the Bogue Inlet pier for pier fishing.

Then of course, any place that attracts families has to have something for everyone. From the shops in Beaufort and Swansboro to Morehead City's shopping centers and Emerald Plantation in the town of Emerald Isle, there are more than enough shops for those who need some shopping time interspersed with their beach time. On top of that there are activities for the kids such as miniature golf and MacDaddy's arcade.

And when you are worn out from all the time spent enjoying our ocean playground, we have some
great family owned restaurants
where you can relax and enjoy the area's fantastic seafood.

This is a great time of year to get your first taste of
the Crystal Coast
.

You should be warned that it is possible to fall in love with the area. There is only one cure for that. You have to move here, and I am one of those who did exactly that.


28/03/10 23:24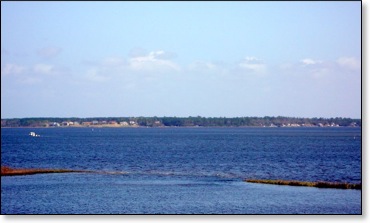 We all know that March can be a challenging month with weather that rarely pleases anyone. Yet for those of us living along the Southern Outer Banks, there are moments when it certainly looks and feels like spring.

Everything about this morning
made me think we had transitioned to the time when we could really start enjoying the out of doors. In certain ways that is completely true. You can go for a beach walk like I did the other day. You can ride your bike or hike a favorite trail. However, getting out on the water is a completely different challenge.

Experienced eyes would likely guess that the wind was blowing somewhat in the picture of White Oak River at the top of the post, and they would be right. Perhaps the wind is why one of my boating friends calls March his least favorite month.

This week I did manage to grab
a great afternoon on the beach
and even
a short ride in my skiff
. It is only fair to say that it took me three tries before I was able to walk on the beach with wind, temperature, and sun cooperating. Only the water temperature itself was stuck in the near winter mode with surf temperatures in the fifties.

That cool water temperature and the winds have kept my kayak resting in the garage. Usually by this time of year I have made a couple of valiant attempts to fight the wind out into the river. It has not happened yet this year.

Earlier in the week, I was
defeated by the winds
when I stopped by Iron Steamer Beach. The water was beautiful but stirred up, and the sand was being blown across the beach just at ankle height. I actually had fun watching the sand drift almost like blowing snow, but the combination of the wind and cold ocean water cooling the air drove me back to the car pretty quickly.

Friday was the day for beaches this week, but even late on Friday things began to go down hill. I headed to Food Lion to grab some groceries about 5PM. I went into the store wearing shorts and a tee shirt. It was at least seventy degrees when I walked through the door. It had been a wonderful day. I managed to work in the yard in the morning and enjoy the beach in the afternoon. After a winter of nasty weather, that was a definite improvement.

However, when I came out of the grocery store, the wind had picked up and the temperature had dropped into the fifties. I headed home and changed back into my blue jeans and sweat shirt. Once I listened to the weather, I went out and covered
my recently planted tomato plants
. The next morning we did not have frost, but the temperature had dropped all the way to thirty nine degrees. Later in the morning I called my wife who is spending some time at our other home in the Virginia mountains. Their temperature had dropped to twenty-eight degrees, and there had been a hard frost.

Yesterday the wind stayed strong most of the day. In spite of that if you could find some shelter from the wind, it was not a bad day. It was still not good enough to go back to shorts and tee shirt, but i did get rid of the sweat shirt.

That same Saturday morning I found one of those sheltered spots and enjoyed looking out over the water from
the porch of the clubhouse at Bluewater Cove
. It was warm enough there to get me wondering how long it will be before we can enjoy
the Bluewater pool
.

Today as I drove across the bridges at Swansboro and headed to the Swansboro River Park to take the picture for this post, I could tell the White Oak would have been a rough ride in any boat much less a skiff. The wind was blowing almost straight down the river. It was one of those days when if you can make it down the river to the harbor, you could likely find some place down the Intracoastal near Hammocks Beach where there might be some shelter from the wind.

However, you would still be faced with a rough, cold ride back home. After lunch I was checking the weather on the Internet and noticed that the afternoon temperature was thirty eight degrees Fahrenheit at our mountain home. I figured it must be wrong and checked the temperature on our front porch here in Bluewater Cove. It was sixty eight degrees.

Since our Virginia home is only 320 miles away, I called my wife to see if the thirty eight degrees was right. She said it was so cold and damp that our daughter's two visiting dogs were having second thoughts about going outside.

She said some wind at sixty eight degrees sounded good to her and a lot better than rain, fog, no wind and thirty eight degrees. March is just a tough month. That is especially so in the mountains, but it even rings true at the beach. Of course there are places where winter still holds sway in March.

Last night as I was getting ready to say good bye on the phone to some Canadian friends, they told me they were having a great maple syrup run, but it would also be a while before their snow disappeared, especially since the forecast had them getting more today and tomorrow.

The good news is that everywhere in the US and Canada the days are getting longer and the sun warmer. Soon the winds will come not as often, and eventually the water will warm.

Here on the Crystal Coast that will happen sooner rather than later. That is why we live here. I am happy to report that the long range forecast calls for some temperatures touching the eighties this weekend. That makes it a perfect kick off for the spring beach season.

That just might be what we need to finally finish off winter and get summer firmly planted on the horizon.