11/12/09 22:30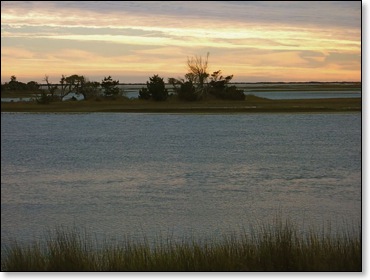 We have been dodging the winter bullet all fall. Today it caught up with us. We awoke to a temperature of 34.


Fortunately there was no frost this morning, but it does not look like we will be so lucky on Saturday morning when the temperature could fall into the twenties.

We got cold weather much earlier last year, so we really should not complain. It is December, and much of the country is still shoveling out from a huge snow storm. Still delaying winter is one of the things that we do best.

However, when we were over in Beaufort this afternoon and I noticed the temperature was stuck in the mid-thirties, I had to admit that winter has found the Crystal Coast.

Actually today, when the morning started at thirty-four and our afternoon finished at thirty-seven, would be classified as a very cold winter day here in Carteret County. Most of our winter days have highs in the forties.

There are not many days when we stay in the thirties. To make matters worse, we had a stiff breeze blowing all day.

I found out about the stiff breeze blowing when I tried to take a few photographs along the Beaufort waterfront. It is one of my favorite places to visit. I love to walk along the docks. Today they were empty, and I did not brave the winds for long.,

When we got home from our visit to Beaufort, I immediately turned on our gas fireplace logs. Thirty minutes to an hour of heat from those takes any chill off the day. We keep our home at 68F in the winter. Running the gas fireplace takes the temperature up to 70F. It also heats my upstairs office to 72F which makes for a nice evening of writing.

One of the ways to survive winter here on the coast is with hearty foods. One of my favorites on a cold night is clam chowder.
Our family recipe for clam chowder
will banish any thoughts of cold weather.

Tonight we got back too late to fix clam chowder, but we had some food almost as hardy, black eyed pea chili made with sausage. The chili was accompanied by some homemade cornbread.
Homemade cornbread
is another food guaranteed to help keep the cold away.

With a light fleece jacket, jeans instead of shorts, sneakers in place of sandals, some hearty food and a few minutes of the gas fireplace, we will get through winter. In fact it is nice to have a real shot of winter so that we know we can survive these cold temperatures.

Hopefully no one from the Midwest, Northeast, or Canada will read my complaints about our temperatures in the thirties. I have already heard enough grief from my Canada friends who got a foot of snow earlier in the week. The temperatures we had today would be a heat wave for them.

They were also unimpressed when I told them I had to pick all my green tomatoes yesterday.

Here are some
pictures from our trip to Beaufort
.
07/12/09 22:34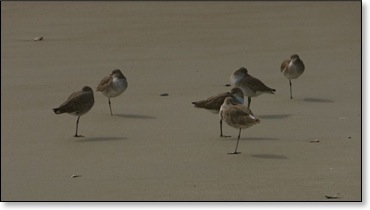 Winter has arrived on the Crystal Coast. It is not like winter in most places. While I have had
some frost on the windshield
of my pickup truck, the frost has yet to get my tomato plants which are growing about ten feet from the truck.


Our centipede yards have turned reddish brown, and Christmas decorations are starting to show up. Crab Pot Christmas trees are not very hard to find. A drive down the local highways in the evening will highlight some decorated trees on docks and boats. The first thing you see when you go into our real estate office is box for Toys for Tots.

Everyone's schedule is beginning to fill up with all the holiday parties. Instead of more traffic, we have less traffic as many of our visitors have gone home for the holidays.

The fall fishing season has slowed due to storms, winds, and lots of rain. The days of driving across the Emerald Isle Bridge and counting thirty boats fishing for spots are just a memory. While you can still find some surf fishermen on the beach, their numbers are small compared to a month ago.

Even the local produce stands have closed up for the winter. All the sweet potatoes have been sold or are in storage.

While things have slowed, we are not sleeping on one leg like the Willets in the picture. Almost all businesses are still open and welcoming customers. While meals might be rushed in cities during the holidays, now is a time on the coast that we often linger over lunch since there are no crowds waiting for our tables.

This is a peaceful time of year here on the coast as long as we do not have a nor'easter bearing down upon us. In the evenings we watch the news of blizzards working their way across the country. The months of watching for tropical storms are gone. The bitter cold and snow of the mid-west and northeast seems far away to us. Our waters are still warm enough to keep freezing temperatures at bay for another month or so.

All the small towns have their Christmas decorations up. I love the swans of Swansboro, but I also like the snowflakes of Cedar Point.

There really is no place to get into a serious holiday crowd like you might find waiting to turn from Chain Bridge Road into the Tyson's Mall in Northern Virginia. We just do not have enough people to create a serious crowd during the old season.

We even visited Walmart in Morehead City last evening. While there were plenty of people in the store, we did not have to hunt for a parking, and certainly we did not to stalk other shoppers going back to their car in hopes of getting their parking space.

As an area where small business dominate, we are well into the season of office parties which often are potluck meals here on the coast. There are plenty of seasonal festivities including parades to get us into the holiday spirit, but the difference is that the holiday is on island time. That means there will be no panic, and the holiday will happen as people get around to it.

It is actually a very pleasant way to have a holiday. There are far fewer stores to tempt one into over spending. The glitz of the holiday seems to be muted by the blues and greens of our waters. The beaches are still available for walking on warm afternoons. It is still a great way to wash away the pressures of daily life.

With luck we might even get in a boat ride or two on some warm days. Life goes on here and winter is no the overwhelming master that oftens shows up in the north.

We have had
a great season on the coast
, and we would love to have some company as the new year comes to the Crystal Coast.

There is plenty of room, so come on down and experience a coastal holiday vacation.