23/10/09 22:57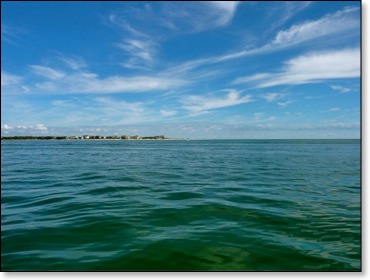 We made the move to the coast a little over three years ago. Our move was one of choice. I wanted to get back to a place where we could see the water like we could in our first home on the shore of the Bay of Fundy In Nova Scotia when we lived there in the seventies.


The sea and its powerful moods had brought a new view of life to us in those days. I still have wonderful memories from those days, and I wanted to be in another truly scenic place where it would be possible once again to be under the influence of the ocean.

Unlike long ago, I wanted a place where the water was warm and inviting, and where I could safely boat and create a whole new set of memories. I wanted to spend time on the water that would give me dreams of fish of all types and water in colors that can barely be captured.

The Crystal Coast ended up being the spot, and this past Thursday, October 22, ended up being one of those days which I will get to enjoy over and over.

Thursday's morning sky was full of puffy white clouds. The temperature was cool, but there was no wind. This was to be my first chance this fall to hit the water when by all reports the fishing was really good. People were reporting decent catches from the fleet of boats going after the fall spots, Other boats were reporting good catches of puppy drum, trout, and blue fish. The surf and pier fishermen were also doing well.

I had one meeting at our church to do some training for the church secretary who was kindly taking over maintenance of
the church website
. After that I made a stop at Dudley's Marina to replenish my gear, picked up some shrimp for bait, and stopped by the ice machine on the way home. At 12:30 PM my fishing partner called to say he was home from work and would be over in a few minutes. Just before 1 PM we pulled away from the dock and headed out towards the White Oak River.

Surprisingly the river was still glassy smooth at 1 PM. Usually by that time of day we have a little breeze. We went slowly by two boats fishing not far from what we consider our private White Oak hole, and then I brought the boat up on plane for the trip to Swansboro.

Even when you live on the river, there are a limited number of days when the water is so smooth that the boat literally glides across it. Thursday afternoon was just such a day. The trip to Swansboro was so smooth that I was able to take a series of slides from my center console mounted camera. That the pictures are so clear gives you a very good idea of just how smooth the river was on Thursday. It was pretty close to amazing. I have had rides like it before, but they are usually around sunrise. The other nice thing about the trip on Thursday was that it was warm with the temperatures in the mid-seventies. We were dressed just as we were when we fished in the summer.

Getting to the Swansboro bridges from Bluewater Cove takes about ten minutes. I usually throttle back and go through Swansboro harbor relatively slowly. This time of year, you almost have no choice since you have to thread your way through the flotilla of spot fishing boats.

It was not long before we turned up the Intracoastal and cruised through what I like to think of as Cedar Point's main street. You briefly slow in the no-wake zone at the Wildlife Resources Ramp, but it is only a few minutes before you are turning and heading out Bogue Inlet. We passed a string of boats anchored along the eastern edge of the marshes that line the Inlet. That is also a favorite spot for fishing.

Soon we were making the last turn to the east where the Point at Emerald Isle is straight off your bow. After that you turn and head pretty much straight out into the ocean. It was this area about one half mile to one mile off the beaches that we wanted to fish. We first chose to fish on the west side of the channel and had very little luck so we moved farther out and fished on the east side of the channel.

From our position we had a good look at the Corps of Engineers' dredge that was working about another mile out. We had started bottom fishing with double hooked rigs. I had shrimp on one hook and artificial blood worm on the other hook. We were in about seven feet of water just off a hole that I had seen on the deepfinder, but we were getting no bites. Just then my partner, Dean, spotted some bluefish feeding on the surface. I grabbed the rod that I keep rigged with a Gotcha plug and put the plug in position to come back through the feeding zone. I immediately hooked a very nice bluefish. It was large enough that we needed to net it to get it inside the boat. As soon as Dean got rigged with a plug and cast into the feeding zone, he also hooked a bluefish. We landed eight nice bluefish in about fifteen minutes. Including a double where I had the distinct pleasure of unhooking two bluefish from one Gotcha plug. We decided that was enough fish to take home. We started throwing back everything that we caught.

We managed to hook and bring to the boat about thirty bluefish from that hole. We then moved on and tried to fish a wave zone for some red drum, but the water was so clear we decided the fish could see us and were staying away.

Then we made the fateful decision to fish on the west side of the Inlet just off Hammocks Beach. I had rigged up my trout rod with a new lure in case I saw any more feeding fish. We were back bottom fishing when once again we saw some blues feeding. I put my new lure right in the middle of them and three fish dived on the lure. I hooked one of them and brought it to the boat. I did exactly the same thing on twenty straight casts. The lure was a bluefish magnet.

By this time I had caught all the bluefish I wanted. My partner had been catching them also, but not on every cast. So I passed over my magic lure and sure enough, Dean started catching a fish every cast. We had a grand old time. I had bluefish dancing on the surface. Then there were bluefish diving as hard as they could, and most of the time my trout rod was bent almost double.

Finally it slowed to a fish on every third cast. We lost count of the fish at around seventy. It was one of those days that fishermen live for and never forget. We had been in one of the most beautiful spots on the east coast, and we had caught fish until we were tired of catching fish. The potential of having a day like that is one of the reasons I moved to the Crystal Coast. The fact that we could have that experience less than twenty minutes from my home dock is just amazing.

After getting back to the dock, I filleted the bluefish, skinned them, and cut away the dark meat so Dean and his wife would have some unforgettable fresh fish. According to all reports they loved the fried bluefish.

I was ready to go again today in search of red drum with another friend, and just as we were getting ready to put our gear on the skiff, a storm came in from the ocean. It appeared to follow the channel through Bogue Inlet and then come right up the White Oak. I was not heart broken at missing fishing today, I still had plenty of memories to savor from yesterday. Some memories will carry you for a long time. I am certain that yesterday's memories have some long legs..

I put up a couple of slide shows.
One set of pictures
takes you down the White Oak up the Intracoastal and out Bogue Inlet to ocean and back to Swansboro.
The other show
is from Swansboro back up the White Oak to Bluewater Cove. If you click on a picture you will get a larger version.


21/10/09 20:31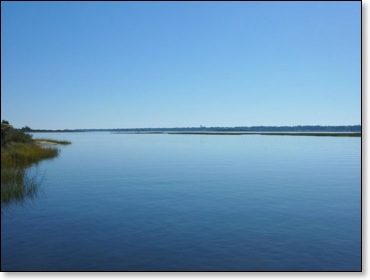 It is nice to be back to normal weather here on the Crystal Coast. We have seen our high temperatures swing from 84F on October 10 to 52F on Oct 18 so seeing temperatures back in the seventies is a real treat.


With a forecast that shows highs in the seventies for the foreseeable future, we can focus on being outside and enjoying the area once again. For me that means finding some time to get back on the water.

Fall water can be very inviting as the above picture snapped today in Cape Carteret shows. There are few things that are more enjoyable than spending a fall day on the water with the warm Carolina sun keeping away any thoughts of frosty temperatures. While being on the water defines fall for me, there are many other signs of fall along the Southern Outer Banks.

Many would argue that the biggest change that fall brings is the influx of fishermen who go surf fishing on our beaches. I would agree that a beach full of four wheel drive trucks with rod carriers and fishermen is a good indication of fall. Seeing trucks on the beach only happens in the October through April time so finding them there the first time after summer is proof positive that fall is here.

Another sign of fall along the coast would be fresh local oysters in our restaurants. They are a fall tradition that goes back many years. While most of the oysters these days are consumed steamed or fried instead of raw, the presence of local oysters is definitely a good sign that fall is here.

It does not take much driving up the beach road to figure out another sure sign of fall. That would the annual sales at the beach stores. Fall is the time when many of the stores try to move their remaining merchandise at a substantial discount. If you like to do bargain hunting, fall on the coast is a good time to do it.

Halloween decorations, especially lots of pumpkins, start showing up in fall, but we have a very unique decoration that starts making its appearance in some stores as early as October. It is those wonderful Crab Pot Christmas trees that are so popular along the Crystal Coast. I think everyone who has ever visited us when the trees are on display has gone home with one of the trees.

While we do not get the tremendous burst of fall colors seen in the mountains of North Carolina, you will see some color here on the coast in the fall. Often the Virginia creeper vines in the trees will turn red, and we also have a few other trees that provide us with a dose of color.

Fall is also the time that our centipede yards start going dormant. They often turn brown and then red. That works out well since if we mow our yards fewer times that translates into more time for fishing. Just at we start focusing on fishing, the farmers start collecting their crops. Combines in the corn field are the first signs that the growing season is winding down. Usually the soybeans and then cotton are harvested next. My years of farming taught me that it is hard to be a farmer and a fisherman at the same time..

Of all the signs of fall that I enjoy, probably the one that means the most to me are the boats gathered around the bridge to Emerald Isle. It sometimes looks like the fishing fleet goes all the way to Swansboro and a good distance up Bogue Sound towards Morehead City. Only in the fall do you see the gathering of the boats to catch spots. While those boats in the Intracoastal are chasing spots, many other boats are after red drum, trout, bluefish, and flounder. Fall is fishing here on the coast, and being out on the water in a boat is one of the best ways to enjoy the season.

With all this great weather, I expect to be on the water the next couple of days. I will be one of the dozens of Sundance skiffs with Yamaha motors anchored someplace along our shores testing my luck with our local fish. If things go right, I might even have some very fresh fish for dinner Thursday night. Whether I catch fish or not, I plan to have a great day and reconnect with the water. I will see you out there.