26/05/10 17:05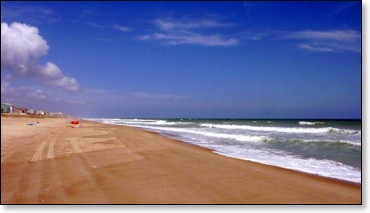 A few days ago I got a kick out of an article about people in Britain flocking to the beach. What really made me smile was
the first picture in the story
.


It showed a beach scene by
Brighton Pier
, south of London. At least I think it was a beach since you cannot see the beach for the people. I had to think how lucky we are on the Crystal Coast.

Even in July there is plenty of beach room here in Carteret County. It is just a matter of going for a walk until you find a spot that suits your fancy.

Talking about crowded beaches here is a little like talking about traffic jams. It all depends on what you are used to seeing.

Our traffic jams rarely last more than a few minutes.

Even on the Fourth July last year, it only took me five extra minutes to get from one end of the town of Emerald Isle to the other. That means we would be laughed off the Washington Beltway if we said that we were in a traffic jam.

When I am talking about our beaches, I certainly feel no need to do anything but tell the truth. We just do not have the dense development or crowds that would lead to a scene like the one on Brighton beach.

What we do have are miles of beaches with low density housing almost always within walking distance of the beach. There are plenty of
beach access points
, and these are just the ones in the town of Emerald Isle. On top of that we have some very convenient beach parking areas which make access easy even for those of us who live on the mainland. It is nice to be close to the beaches and to be able to enjoy those same beaches without feeding a parking meter or buying a beach tag.

There are four more options if you cannot find enough solitude on the beaches along Route 58 through Emerald Isle, Salter Path, Indian Beach, Pine Knoll Shores, and Atlantic Beach. First grab a ferry from Beaufort or Harkers Island and visit
Cape Lookout
. There are 56 miles of undeveloped beach there. You can read about one of my favorite day trips in my post,
The Best Twenty Dollars You'll Ever Spend
.

If Cape Lookout is a little far for your taste, try Shackleford Banks. You can catch a ferry from Beaufort or if you have a boat, it is an easy boat ride. We have even taken our skiff all the way from our home on the White Oak River to Shackleford Banks. It is a great trip if you pick the right day. This is a slide show we made of
a trip to Shackleford
in 2007.

The third choice for a more remote beach is to catch the ferry over to
Hammocks Beach
from Swansboro. That is about as close an uncrowded beach as you find with one exception.

Those who know this end of the sound well will know where this is headed. If you want a nice private beach, there are plenty of them around Bogue Inlet as you can see from the picture of
this beautiful beach in Bogue Inlet
. I can tell you it is my daughter's favorite beach, and all it takes is a few minutes in a skiff to get there.

After a couple of cloudy and drizzly days, we are slated to have an absolutely stunning Memorial Day holiday. There is a chance of afternoon thunderstorms on Saturday, but Sunday and Monday look like great days to find a beach that actually fits your personality and gives you that feeling of pure delight that I had on
my first dip in the salt water
this year.


24/05/10 17:08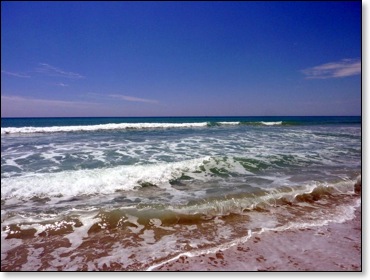 You know that summer is on the way
when tomatoes start ripening
, and the beach is a natural place to be on a Saturday.


Late last week, the weekend forecast did not sound very promising, but after
a great day on the river
Friday, it just seemed natural that I spend part of Saturday on the beach.

I was pleased when I awoke Saturday morning to blue skies and the idea that those thunderstorms were going to miss us. After doing my morning shores, I stuck a cooler in the back of the car and headed to beach. A couple of stops later, and I was was pulling into Third Street Beach.

I am usually willing to take the gamble that Third Street Beach will be uncrowded. My wife would rather go to beach where there is a faucet to wash your feet off when you exit the beach. I can rough it and wait until I get home to rinse off the sand.

Just in case the fish were biting, my fishing gear was in the back of the car along with a cold beverage in my ice filled cooler. I was surprised that more than just a few folks were fishing. After watching for several minutes, I decided a stroll along the beach would be more productive than feeding shrimp to fish.

It never ceases to amaze me how much beaches can change in such a short time. Not long ago Third Street had a shelf that you could sit upon while you enjoyed the waves. That is now gone, and the beach itself is a little steeper and less linear. There are more points and tiny coves. I think the beach is more interesting than it was. The changes have made it even more fun to walk along the beach and watch the waves.

Saturday as you can see from the picture, the water and sky color were absolutely spectacular. It was a real treat to watch the sky and water change colors as clouds passed over. Far to the east up the beach, I could see some threatening clouds, but behind me to the north over Bogue Sound there was nothing but puffy white clouds and brilliant blue sky. To the south, just off shore, I could see a handful of boats trying to catch some fish.

It was so pleasant out walking in the damp sand as the waves rolled in that I walked farther down the beach than I usually do. My wife accuses me of doing nothing my dawdling on the beach since I am always taking pictures. This time I took
a lot of shore bird pictures
and still managed to get in a good beach walk.

My only mistake was a miscalculation on the sand temperature. By the time I got back to the bottom of the stairs leading off the beach, the sand had warmed enough to the point that I was hopping around trying to keep my feet from burning.

Another surprise was how few people I saw once I got away from the beach access point. Very few of the beach houses seemed to have anyone out on the beach taking advantage of the great weather.

I suspect a stroll down the beach this Memorial Day weekend will yield a lot more people out enjoying the sun, sand, and emerald colored waters. The first three days of this week look a little unsettled with a chance of wind and thunderstorms. However by Friday, the weather clears, and next week looks to be a fantastic week to open the beach season.

The temperatures are expected to be in the mid-seventies to low eighties with sunshine except a light morning rain on Saturday June 5. Next week will be a great week to renew your friendship with the beach.

There are all sorts of good things to enjoy. Fresh local blueberries are now available along with local shrimp right off of the boat. Our area hothouse tomatoes are especially tasty this year, and I had some very tasty softshell crabs from my grill this past weekend.

I am sure you will not be disappointed with what is waiting for you on the beach.