s It Downhill for Summer? August 22, 2010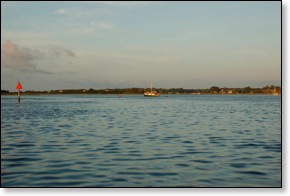 It has been a challenge finding really nice weather in August.


After June and most of July when we could not even buy rain, the skies have opened.

Our total precipitation in the last month has been well over one foot.

The damp trend that ushered in early August has continued. We have actually had close to four inches of rain in the last five days.

On top of that it is raining right now. But change is on the horizon. Of course that is normal for coastal weather.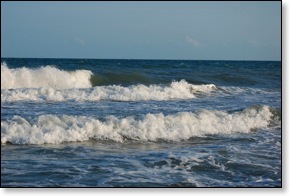 By the end of the week we will be seeing low temperatures along the beaches in the mid to low sixties.


Daytime temperatures will be in the mid-eighties. Could it be that summer is really slipping away this quickly?

Don't let the weekend temperatures fool you, if the long range forecasts are correct, we are in for a real change.

By August 31, we should be back in the nineties, and then summer will come roaring back with a blast of heat.

Accuweather has daytime high temperatures from September 1 through September 6 in the mid to upper nineties. Lows at night are supposed to be in the low seventies or even upper sixties.

On top of that the weather is going to be mostly clear. It looks like September is going to start with a heat wave.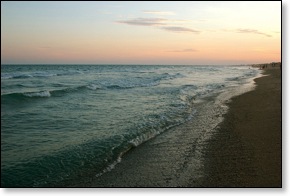 Of course if there any tropical storms, all of this could change in a short time.


While I do not want to see a hurricane come through the area, we do need some wind and waves to clean out Bogue Inlet.

Judging from the
coverage in the local newspapers and my own personal experience
, Bogue Inlet has become a tricky spot to navigate.

During the last rescue that took place, the Coast Guard did a threat assessment before they moved into the Inlet to rescue the boaters.

If the Coast Guard is thinking twice about going into the Inlet, I suspect I will be staying inside for my fishing until conditions improve.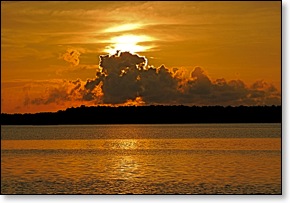 The good news is that we have
plenty of wonderful water
to investigate without challenging Bogue Inlet.


My skiff is perfectly happy fishing around the Point, the backside of Hammocks Beach, and up the White Oak River.

The White Oak, early one morning, is where I captured the picture of the sun behind the clouds.

I made a run out on the river before sunrise just to catch some of the beautiful early morning light.

It was
a great trip down the river
to Swansboro.

I posted
a neat set of pictures from the trip
on my Picasa Web Albums site.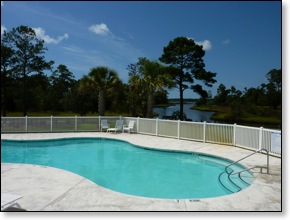 While it seems we have been stuck in
a Summer weather pattern
with storms every afternoon,


We did have one morning this week when
the air felt different
, but unfortunately the humidity came back pretty quickly.

I have been glad to see
the sulphur butterflies
show up.

I consider them a good luck charm for fishing.

However, if we are going to have a heat wave, I suspect the good fishing will be delayed. It will come though.

Those of us who live here are lucky to wake up every day in
a place where the land and water stretch your imagination
.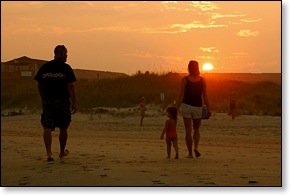 Living here along the water makes it easy to say that we are in place that is more than just a nice place to visit.


Actually the Southern Outer Banks is a great spot to find
a house that is more than just a place to live
.

Every beach walk is an opportunity for an
unforgettable memory
. I will never forget my daughter and granddaughter walking into the sunset on August 7 this year.

With
its world of dazzling water
, it is hard to go wrong choosing the Crystal Coast as a place to live if you can find a way to support your family.

This September will be the fourth anniversary of our move to the Carolina coast. It has been a wonderful experience.

We have managed to make some really good friends in the area on top of all the wonderful memories.

As we near fall I can only hope that we have
another unbelievable fishing day
like we did last fall.

Those memories are one of the things that make the Crystal Coast such a special spot.

Why we love it here?

It is hard to say that any place is perfect. There always a balance between what you like and what you don't like. That also changes as you age. At one time I was close to homesteading in Newfoundland.
Today I would steer you to my articles,
Ten ways Carteret County met our needs
,
Why I love living in Carteret County
, and to the
Crystal Coast Electronic Village Homepage
as answers to why we have chosen this area.
From that reading it is easy to understand why we enjoy living in a small subdivision called
Bluewater Cove
near
Cape Carteret
. It is what we were looking for in a place to live. It's close to services and close to the beach but not on the beach. We have a dock behind the house and are close to some
great trails
. I can ride my bike in the neighborhood and not face a lot of traffic.
I also use my kayak on the White Oak River and have learned to love
exploring the river and surrounding waters
with our skiff.
This area also has some great festivals like the
Newport Pig Cookoff
, the
Emerald Isle Saint Patrick's Day
, and the
Swansboro Oyster Roast.
We were also impressed with the
Emerald Isle Christmas Parade
.
It is a friendly area with a great future. So right now it is the spot for us. I often write about the area in my other websites. If you are a very avid reader, you might find some content on multiple sites, but usually the content is fairly specific to the sites.
These are additional sites not mentioned in the above post.
Ocracoke Waves
Crystal Coast Blog 09
Crystal Coast Blog 08
Some archived articles