A Fall to Remember-Nov. 20, 2010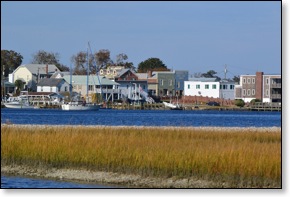 It was easy to think that after October the weather could not get any nicer, but Mother Nature has proven me wrong.

This has definitely been a fall to remember. Any time you can fish in your shirt sleeves in November is a great time.

When you can do it after the middle of November, things are nearly perfect.

While I have not had as much time to fish as I would like, the weather has not been the problem.

I have seen a succession of real estate clients from far away in the last six weeks. That has managed to keep us busy showing homes.

We even already have a December closing scheduled on a beach house, and there is the chance that we might get another contract before the end of the year.

It is nice to see the
Crystal Coast real estate market
showing some signs of life.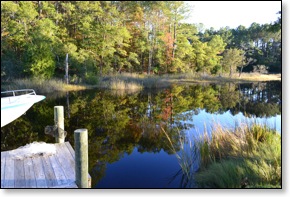 This picture, taken off the corner of the dock behind
our house
in
Bluewater Cove
, shows how reflective the local waters have been recently.

With the water warmer than normal, it is only recently that the fall fishing has taken off.

I guess catching all the small trout that you want has not been a problem.

On our most recent fishing trip, I caught
a nice flounder
just to the west of the White Oak River channel near Jones Island.

We had a nice couple of hours fishing in that area on Monday, November 15.

What a pleasure to
still be fishing with minimal clothing
even this late in the year.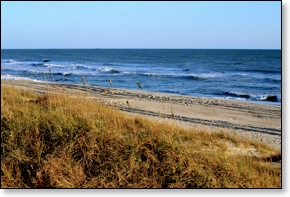 It is still pleasant over on the beach. We have seen some
big waves
and
some clear, quiet waters
in the last month to six weeks.

The ocean's moods vary from day to day, and this is late fall which has greater weather variability than during summer and early fall.

With that background, we are never surprised with what we find. Sometimes you could boat in a bathtub, and other days, you might want a Coast Guard vessel.

As is often the case, sometimes
it is quiet in the sound
and over on the beach things are
a little more exciting
.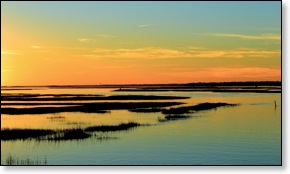 I have had especially good luck getting some great pictures of Bogue Sound and the
White Oak River
.

It is such a pleasure to be able to enjoy boating this time of year without really bundling up. Even yesterday, when I was busy almost to sunset, I managed to make it out for a few pictures.

Some of the
after sunset colors
were just amazing.

I will admit that it was getting cool on the water by that time, and the thought that gloves might feel good crossed my mind.

Still it was an enjoyable ride with
unforgettable colors on the water.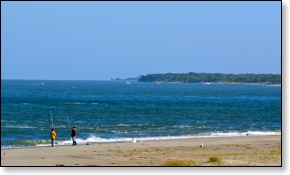 Earlier in the week we had to make a trip to Morehead City to replace my wife's cell phone.

We took advantage of the blue skies and warm temperatures by heading over to Fort Macon.

I always enjoy taking pictures from the covered viewing area on the dunes.

This picture takes in Beaufort Inlet and Shackleford Banks. I also took some interesting photos on
a nice trip to the Point
recently.

If you haven't seen all the new sand that has made its way to the Point in the last year or so, those pictures will amaze you.

The Point is always changing, and I have written
many posts about it
.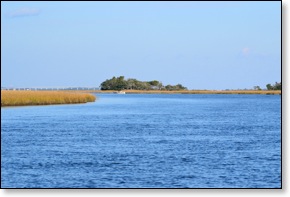 On Thursday, November 18 we took t
he Toys for Tots Marsh Cruise
.

While it was a little cool on the water, it was a great opportunity to see the area marshes and hear some local history.

My wife especially liked it since the pontoon boat had some protection from the wind and has a little more stability than our skiff.

I was not very surprised at the cool temperatures since we have seen
our first frost
and some good evenings.

Still there have been enough of those
golden warm evenings
to keep us thinking about things other than winter.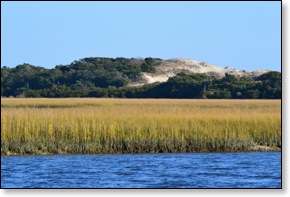 From beautiful sand dunes on Bear Island to
quiet evenings on the White Oak
, this has been a great time to enjoy the Crystal Coast.

We have seen
nice days on the beach
and good times on the water.

I even managed to go
kayaking on the White Oak last weekend
.

It is hard to complain about the weather if in the second half of November, you have managed to walk the beaches, take rides in your skiff, fish, and go paddling in a kayak.

We are just lucky to be living in an area which has such amazing scenery, and weather which allows you to enjoy it.

I talked to friends in
Tay Creek, New Brunswick
where we farmed in the seventies and early eighties. As of November 20, their first snow is on the ground.

If you click on the Google Maps link, the farm just to the right of the map marker was one of our two farms.

I remember well getting ready for the first snow of the year. I do not miss it.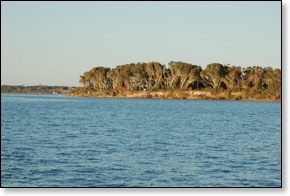 We are planning on another fishing trip on the Monday before Thanksgiving.

The weather looks like it is going to be fantastic here at the beach for the Thanksgiving week.

I expect fishing will also be good.

On Tuesday before Thanksgiving, the temperatures are supposed to reach into the mid seventies.

Every warm day this time of year, means that winter will be one day shorter. After last year, we could use a short, mild winter.

At least Accuweather is calling for
a warmer and drier winter for us
.

I am glad our pansies are in the ground, and it won't be too long before we can start hoping for spring.

This has been
a great fall on the water
.


Why we love it here?

It is hard to say that any place is perfect. There always a balance between what you like and what you don't like. That also changes as you age. At one time I was close to homesteading in Newfoundland.
Today I would steer you to my articles,
Ten ways Carteret County met our needs
,
Why I love living in Carteret County
, and to the
Crystal Coast Electronic Village Homepage
as answers to why we have chosen this area.
From that reading it is easy to understand why we enjoy living in a small subdivision called
Bluewater Cove
near
Cape Carteret
. It is what we were looking for in a place to live. It is close to services and close to the beach but not on the beach. We have a dock behind the house and are close to some
great trails
. I can ride my bike in the neighborhood and not face a lot of traffic.
I also use my kayak on the White Oak River and have learned to love
exploring the river and surrounding waters
with our skiff.
This area also has some great festivals like the
Newport Pig Cookoff
, the
Emerald Isle Saint Patrick's Day
, the
Swansboro Mullet Festival
and the
Swansboro Oyster Roast.
We continue to be impressed with the
Emerald Isle Christmas Parade
.
It is a friendly area with a great future. So right now it is the spot for us. I often write about the area in my other websites. If you are a very avid reader, you might find some similar content on multiple sites, but usually the content is fairly specific to the sites.
These are additional sites might or might not be linked in the above post.
Ocracoke Waves
Crystal Coast Life Blog
Crystal Coast Blog 09
Crystal Coast Blog 08
Some archived articles