Fall is in sight-Oct. 5, 2010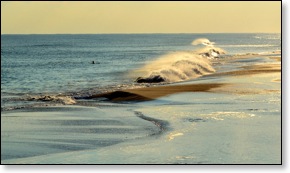 September was good to us until the end of the month.


You could even argue that the month was great until the last day of the month when we received 20.25 inches of rain along the
White Oak River
.

If you click on the "White Oak River" link, you will get an idea of how nice things were before the rains.

After a brutally dry June and July, we had a wet August, followed by a dry September.

That is, it was dry until the last four days of the month when our precipitation totaled 23.75 inches.

I feel sorry for the farmers since moisture delivered in huge amounts usually does not help any crops.

Then there are those that had some damage from the flooding. I hope things are drying out for them

I am pleased that
Bluewater Cove
did well in all the rains. Other than some silt fences that did not hold on new construction, our problems were minor.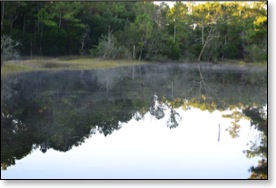 This morning, October 5, our temperature dipped into the upper forties while there was snow in the Smoky Mountains.


With with torrential rains and October snow a few hundred miles to the west of us, I am not surprised that my friends in eastern Canada are seeing one of their warmest falls ever. All that makes it easy to say that weather is definitely hard to predict.

I am not going to pretend that I know what is in store for us next. I am going to leave it at
Fall is on the Horizon
.

When the water starts steaming because it is warmer than the air, you know that things are changing.

Some of the changes are good. The
water temperature
in the gut behind our home has dropped
eleven degrees
in the last couple of weeks.

Fishing was pretty slow when the water was hovering just below eighty degrees. Fishing started to pick up as the waters were starting to cool a little before the deluge.

I caught eight bluefish just off Hammocks Beach on our last fishing trip on September 24. On the way home, I caught a nice trout in the White Oak.

Of course all of that was before the huge volume of fresh water generated by the 20.25 inches of rain.

We have held back on wetting our lines until the water settles a little more.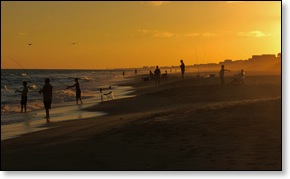 Before the rains surf fishing was starting in earnest as you can see from this picture taken at the Eastern Regional Access.


It has been slow for a few days since then, but on our trip over to Bogue Inlet Pier today, I noticed that there were a lot of anglers in the surf to the east of the pier. Most of the time that means fish are biting.

However, I could not tell if they were catching anything, but my gut tells me that fishing will pick up soon. It is time.

There still are no signs of the armada of boats seeking the fall run of spots. That too will come soon, perhaps even this weekend.

We could use the additional visitors to keep all our local establishments humming. The fall run of fishermen usually makes everyone happy.

It is no surprise that we fishermen will be pleased to see a good fall fishing season. It will be great to be catching some fish after a somewhat slow summer.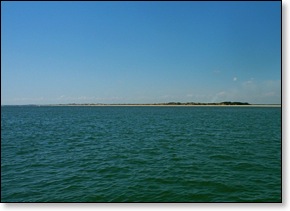 Since my last report, we have found a very good spot to fish down along Bear Island. It is where I caught the most recent bluefish.

On that trip it appeared that Bogue Inlet and its buoys were in pretty good shape based on the traffic coming through the Inlet with no problems.


That was before the deluge, so we will have to revisit the area to see what changes all the additional water brought.

It was definitely
pretty out by the Point
the last time we rode through the Inlet.

But as fall is now approaching, the weather can be deceiving. Today was one of those tricky days.

I needed
a few water pictures of a listing
that I had just completed so I convinced my wife to ride out Raymond's Gut to the first buoy in the White Oak River.

The ride out our protected Inlet was warm and summery. The wind wasn't even bad as we turned and headed down the river a few hundred yards.

However, when we turned and headed back, we were going into the wind, and it was not nearly as nice.

Things will be better when we get back up into the eighties towards the end of the week. It just might not last long.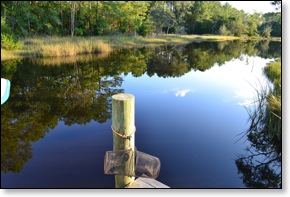 My dock looks a lot different in this picture than it did during
the flooding last week
.


Last week's high water was by far the highest that we have seen in Bluewater Cove since we moved here over four years ago.

About three thirty PM on Thursday, Sept 30, four hours before the rains finally stopped, I was standing in several inches of water on my dock watching the water rise,

I had already made the decision to put the plug in my boat and let it float off the lift while moored to the dock. I even had started the motor so the bilge pump would not run down the battery.

Then almost miraculously the tide started to go out. Within just a few minutes the waters had dropped six inches and part of the dock was above the waters. By nine PM the water was down well over a foot.

In morning things looked pretty good. While we have continued to have high tides, they are nothing out of the ordinary.

Having the peak of the rain water runoff come at high tide had me a little worried, but my concerns disappeared as the tide started dropping.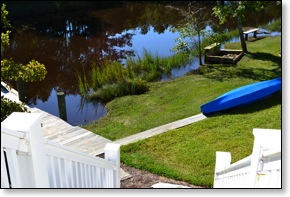 When the water is right at your back steps, you always wonder if your house was built high enough above the flood plan.


After last week we still have no complaints. I doubt there will very many days when Mother Nature gives us over 20 inches of rain in one day.

We even had a south wind trying push water up the White Oak earlier in the day. That combination of events is close to the perfect storm for high water for us.

While West Firetower and Peletier Loop were temporarily covered in the evening with water in a couple of spots, they were fine the next morning.


The storm was impressive
early in the morning, but it got even more intense during the day.

Unfortunately there was no way to film the peak of the storm. We were very happy when the rains stopped at 7:30 PM.

I am hoping that we will have some nice weather to make up for all the rain. Last fall was also very rainy so I never felt like I got as much fishing done as I wanted.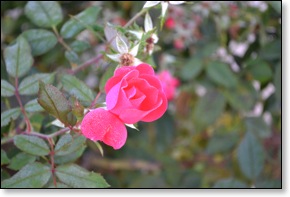 That we can have such challenging weather and still have beautiful roses blooming a few days later is a testament to the how fast things can bounce back.


Fall also brings the last of the outdoor chores. I mowed our yard this past Saturday. If I am lucky there will only be one more mowing this season.

I have been working on the weeds with a spot sprayer. It will not be long, and the grass will be turning brown. It will be a long time until that first mowing in late April.

Still there is a lot of fun on tap for this fall. We have
Swansboro's 56th Annual Mullet Festival
this weekend, and it is time to once again dine on
some Episcopalian lobsters
in Salter Path this weekend.

It has been a great summer in spite of the heat. Just
riding out to catch a sunset
last Saturday night reminded me how beautiful this area can be.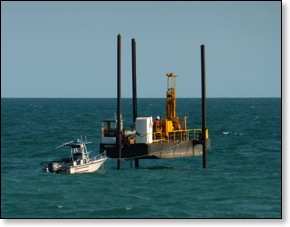 Of course nothing stays the same forever.


Just before the rains, we were at the Eastern Regional Beach Access and caught sight of the beginning of the new concrete pier that the town of Emerald Isle and the NC Aquarium are constructing.

It should be interesting to watch the pier go up, but I wonder how it will change the beach. It looks
very impressive from a distance
.

I am one of those folks who believes we can never have too much beach access so I hope this pier improves the beach area.

Next year we might be talking about how the new pier did in some of the storms. I haven't seen the timeline so it might take a lot longer than that to get it built.

If it is as impressive as I think it is going to be, I might even take up pier fishing.

Be sure to check out
my new Crystal Coast Life Blog
.


Why we love it here?

It is hard to say that any place is perfect. There always a balance between what you like and what you don't like. That also changes as you age. At one time I was close to homesteading in Newfoundland.
Today I would steer you to my articles,
Ten ways Carteret County met our needs
,
Why I love living in Carteret County
, and to the
Crystal Coast Electronic Village Homepage
as answers to why we have chosen this area.
From that reading it is easy to understand why we enjoy living in a small subdivision called
Bluewater Cove
near
Cape Carteret
. It is what we were looking for in a place to live. It's close to services and close to the beach but not on the beach. We have a dock behind the house and are close to some
great trails
. I can ride my bike in the neighborhood and not face a lot of traffic.
I also use my kayak on the White Oak River and have learned to love
exploring the river and surrounding waters
with our skiff.
This area also has some great festivals like the
Newport Pig Cookoff
, the
Emerald Isle Saint Patrick's Day
, and the
Swansboro Oyster Roast.
We were also impressed with the
Emerald Isle Christmas Parade
.
It is a friendly area with a great future. So right now it is the spot for us. I often write about the area in my other websites. If you are a very avid reader, you might find some content on multiple sites, but usually the content is fairly specific to the sites.
These are additional sites not mentioned in the above post.
Ocracoke Waves
Crystal Coast Blog 09
Crystal Coast Blog 08
Some archived articles