Hard to beat fall weather-Oct. 20, 2010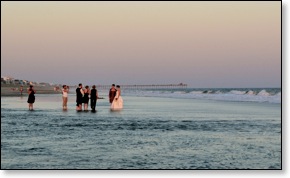 October has treated us very nicely with some great fall weather.


We have enjoyed a number of days with high temperatures in the low eighties.

To put icing on the cake, our evening temperatures have been mostly in the sixties and fifties. That makes for great sleeping weather.

We might have seen the upper forties once or twice early in the month, but that has been it for cool weather.

Our skies have blue and the waters have stayed warm. If the waters are warm enough for a bride to go wading in her wedding dress after 6 PM, you know we are having a great fall.


This picture, taken off the corner of the dock behind
our house
in
Bluewater Cove
, shows the deep blue color of the skies that have dominated the area.


Our darker than normal waters have created some opportunities for amazing pictures of
the local birds
.

With some areas wetter than normal because of the over twenty inches of rain that we got on September 30, we have watched white herons feeding within a few yards of our house while we are sitting at our kitchen table.

Since that massive rain on the last day of last month, we have only received only one third inch of rain. Tonight I will likely turn my irrigation system on for the second time this month.

On September 30 as I was standing on the dock covered with a couple of inches of water, I never imagined we would go from being soaked to dry so quickly.


However, we have taken advantage of the warm days by going over to the beach whenever we have a few minutes.


This picture was taken on October 10. It was one of the most memorable evenings on the beach that I have enjoyed.

The light was perfect for pictures, and there was a very willing group of teenagers having a ball in the surf.

I was knee deep in the water myself. Aside from a slight coolness when I first stuck my toes in the water, I cannot complain.

I took a lot of pictures that evening, I suspect they will make it easier to get through January and February.

However, the early sneak forecast for winter 2010 from Accuweather.com
looks warmer and dryer than last year
.

Considering the amount of snow that I shoveled in the Virginia Mountains last year, they have me rooting for the accuracy of their forecast.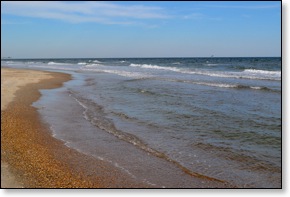 Our warm evening trip to the beach early in October was no fluke.


We went over on Monday and enjoyed another fall beach walk.

While I did not catch any people in this shot, there were
a number of people enjoying the warm October sun
.

There were some young children running in and out of the surf.

When I tested the water, I could not tell much difference from my last trip.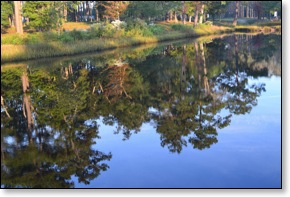 I have to admit that I have really enjoyed the blue skies. The darker than normal waters have created some stunning scenery.


I have had a hard time putting my camera down when navigating in and out of Bluewater Cove.

This fall it seems like there is a beautiful scene around every corner.

Of course with warm weather keeping us outside, there are even more opportunities to take those pictures.

The only real disappointment so far this fall has been the slow start to the fall fishing season. Last year on October 23,
we wore ourselves out with bluefish
.

This year they have been slow to show up.

With a huge amount of fresh water dumped into our watershed, most of the saltwater fish have temporarily disappeared.

After our fishing trip yesterday confirmed reports of slow fishing, I have decided to wait a few days before we try it again.

In fact most of the shrimp that I bought for bait yesterday ended up in our dinner tonight.

I have a strict rule of never scrimping on bait shrimp. That way if the fishi are not biting, you are still guaranteed some seafood.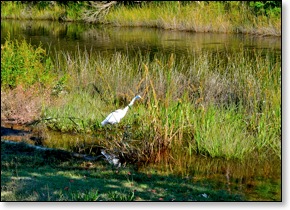 With the herons at our back door, it feels a little like early winter.


Normally they work the inlet to the White Oak River until the coldest few weeks when they start fishing in the shallows beside our house.

With higher than normal water, I guess the shallow areas already have a good crop of minnows.

For whatever reason, the herons are working these areas now.

I much prefer watching a feeding white heron to any early morning television show.

I have especially enjoyed the fact that our most recent heron visitor seems to ignore me.

There is nothing like a cooperative subject to make a photographer happy.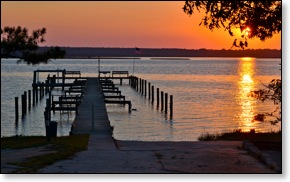 With clear skies most of the time, there have been plenty of spectacular sunsets.


This one was taken in River Oaks Plantation not far from Stella. River Oaks is very open subdivision where you feel like you are right on the river.

I have
a couple of listings in there
, and I often stop by around sunset to check the scenery.

Rarely am I disappointed by a River Oaks Plantation sunset.

After eight years of looking at property along the Southern Banks with the last four years as a Realtor®, I have learned to expect the unexpected.

You find some of the neatest places hidden in neighborhoods tucked away from the eyes of most visitors.

When we take visitors to Bluewater Cove for the first time, it is not unusual for someone to ask how we found our place on the water.

It certainly is not a place that is likely to be found by people wandering around the countryside on main roads.

Perhaps being hidden on the shores of the White Oak River is one of the nice things about living here.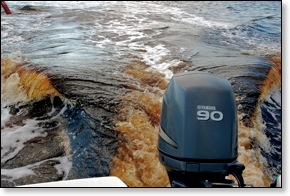 Tuesday as we were motoring our way back into Raymond's Gut which connects the White Oak with Bluewater Cove, I was amazed at the Coca-Cola color of the river waters.


While they have certainly improved in the last three weeks, we still have a ways to go to get back to normal.

Three weeks of dry weather is certainly helping to speed the process. Surprisingly the local news has been running stories about a couple of roads still closed because of damage from the heavy rains.

One is Highway 172 which is the back gate into Camp Lejeune. I have not paid any attention since civilians are not allowed to use the road anymore from our side of Onslow County.

The other road is Highway 50 near Holly Ridge.

We were very lucky here along the Crystal Coast. We had very little damage in spite of the torrential rains. I guess that is one advantage of living in flat country with very big drains.

I enjoy telling people the White Oak River is nearly two miles wide near our home, and we are only three miles from Bogue Sound.

When the tides goes out, so usually does a good portion of our water. When we had our September 30 rains, I was standing on
my slightly waterlogged dock
at 3:30 PM when the tide turned and started going out.

In spite of it raining torrentially for another four hours, the water continued to drop.

By morning the water was at a level we would consider
a "normal very high tide."


Sometimes location is everything. Counties just a little inland from us have been declared disaster areas because their waters don't disappear with the tides like ours.

Like everywhere there are challenges, but right now the weather is not one of them.

Be sure to check out
my new Crystal Coast Life Blog
.


Why we love it here?

It is hard to say that any place is perfect. There always a balance between what you like and what you don't like. That also changes as you age. At one time I was close to homesteading in Newfoundland.
Today I would steer you to my articles,
Ten ways Carteret County met our needs
,
Why I love living in Carteret County
, and to the
Crystal Coast Electronic Village Homepage
as answers to why we have chosen this area.
From that reading it is easy to understand why we enjoy living in a small subdivision called
Bluewater Cove
near
Cape Carteret
. It is what we were looking for in a place to live. It is close to services and close to the beach but not on the beach. We have a dock behind the house and are close to some
great trails
. I can ride my bike in the neighborhood and not face a lot of traffic.
I also use my kayak on the White Oak River and have learned to love
exploring the river and surrounding waters
with our skiff.
This area also has some great festivals like the
Newport Pig Cookoff
, the
Emerald Isle Saint Patrick's Day
, the
Swansboro Mullet Festival
and the
Swansboro Oyster Roast.
We continue to be impressed with the
Emerald Isle Christmas Parade
.
It is a friendly area with a great future. So right now it is the spot for us. I often write about the area in my other websites. If you are a very avid reader, you might find some similar content on multiple sites, but usually the content is fairly specific to the sites.
These are additional sites might or might not be linked in the above post.
Ocracoke Waves
Crystal Coast Life Blog
Crystal Coast Blog 09
Crystal Coast Blog 08
Some archived articles