Memorial Day 2010
Summer arrived with Memorial Day this year.
We have seen plenty of warm temperatures, blue skies, and emerald waters.
I think our visitors should be happy with the great weather that we were blessed with this weekend.
My guess is that local businesses had a great weekend. When I went by Jordan's on Sunday night people were waiting on the porch just like in mid-summer.
There was some traffic this weekend, but it still only took me
six minutes to get across the bridge
to Emerald Isle. It was a long way from a real traffic jam.
Last night felt like a perfect beach night with
a warm summer wind blowing off the water
. It reminded of summer nights on the beach when I was a lot younger.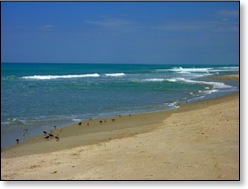 It will not take us long to get back to mostly empty beaches.
The reality is that you can find just about as much privacy on the beach here as you want.
It is just a question of
how much beach you need
to be happy.
The second half of May has been a great time to be on the beach.
I spent
a wonderful Saturday on the beach
not long ago. It was about as nice a beach day as you could request.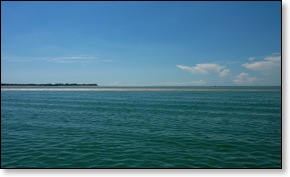 Friday we managed to make it out on the water just before the crowds descended.
It was absolutely spectacular as you can tell from this picture of the Point at Emerald Isle taken from Bogue Inlet.
I think it qualifies as
a dazzling day on the water
. I was really pleased because earlier in the week there were
waves that only a surfer could love
.
We had a wonderful time on the water. It was just right. We were very surprised at how few people were on the water Friday before Memorial Day.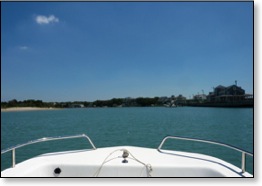 We tried our luck fishing in several places including the Coast Guard Channel where this picture was taken.
I think we managed a small shark, a pinfish, and a small black sea bass which is better than we did fishing over in the waters behind Swansboro.
Still we had a lot of fun, it was a peaceful day out on the water, and when we got back to fishing in the White Oak River, we both caught a bluefish which was a nice way to end our trip.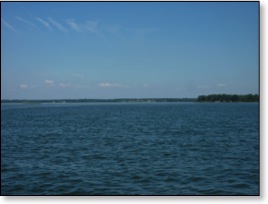 The White Oak was also about as pretty as it can get. I do not think a lot of people understand
how magnificent our coastal rivers are
.
While I love going out the Inlet into the ocean, I often have a great time just parking myself in the river.
There we are close to home, and if the wind comes up or the weather gets bad, we can be home in five or ten minutes. It is almost stress free boating.
This Sunday we were out on the river for three hours which just melted away as we watched nearly sixty boats head down the river to the ICW.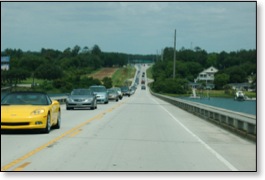 When I took the bridge over to the Island Saturday at noon, I was pleased to see the traffic. Visitors are what keeps our economy going.
The amount of visitors we get each year is reasonable. We are not overwhelmed with tourists. Saturday it only took me three minutes longer than normal to cross the bridge.
I even made a quick trip to the grocery store on Saturday without any problems.
It was also nice to see some people on the beach. We have empty beaches for more than nine months out of the year, so sharing them for a few months is not too big a price to pay for living here in paradise.

Why we love it here?

It is hard to say that any place is perfect. There always a balance between what you like and what you don't like. That also changes as you age. At one time I was close to homesteading in Newfoundland.
Today I would steer you to my articles,
Ten ways Carteret County met our needs
,
Why I love living in Carteret County
, and to the
Crystal Coast Electronic Village Homepage
as answers to why we have chosen this area.
From that reading it is easy to understand why we enjoy living in a small subdivision called
Bluewater Cove
near
Cape Carteret
. It is what we were looking for in a place to live. It's close to services and close to the beach but not on the beach. We have a dock behind the house and are close to some
great trails
. I can ride my bike in the neighborhood and not face a lot of traffic.
I also use my kayak on the White Oak River and have learned to love
exploring the river and surrounding waters
with our skiff.
This area also has some great festivals like the
Newport Pig Cookoff
, the
Emerald Isle Saint Patrick's Day
, and the
Swansboro Oyster Roast.
We were also impressed with the
Emerald Isle Christmas Parade
.
It is a friendly area with a great future. So right now it is the spot for us. I often write about the area in my other websites. If you are a very avid reader, you might find some content on multiple sites, but usually the content is fairly specific to the sites.
These are additional sites not mentioned in the above post.
Ocracoke Waves
Crystal Coast Blog 09
Crystal Coast Blog 08
Some archived articles