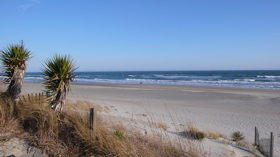 North Carolina's Southern Outer Banks (SOBX)
I've been coming to the North Carolina coast for well over fifty years, but I never dreamed that I would buy some real estate here. It's a wonderous place, and much of it has seen tremendous growth over the last several years. Yet the still reasonably priced waterfront real estate, finally caused us to make our move.
Three summers ago my wife and I decided to look for some real estate where we could spend extended time near the salt water. We went as far north as Asseteague Island in Virginia in our quest. Then we traveled from Corolla to Oak Island, visiting Nags Head, Hatteras, Ocracoke, Wilmington, Southport and several less well known spots. We fell in love with the Southern Outer Banks. After searching in vain for an affordable place near the water in Beaufort, we found a great place in western Cateret County on the White Oak River. (Read more about living along the White Oak in the Coastal NC Blog) The content from my three to four times weekly posts here is archived at Coastal NC Blog.
---
---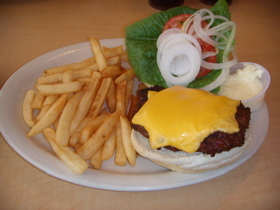 ...is actually probably on the mainland. While I have only been wandering the shores of Emerald Isle for a year in this decade, I have been eating burgers in the area for a number of years. Since 2003 I have eaten good ones as far east as No Name Pizza, Cubbie's, and Andy's in Beaufort and as far south as Wilmington's P.T.'s Grille.
The quest for a great burger is a life long journey. I first sampled a Big Moe at Odell's in Mount Airy in 1963. Fortunately for all of us Odell's is still cranking out great burgers. I have been lucky enough to sample Five Guy's Burgers from Northern Virginia. Recently I have enjoyed Cookout burgers on my travels to the coast. Still until walking in the doors of the Fairway Restaurant on Route 58, my favorite burger was from Burger in the Square in Roanoke.
Actually Fairway is a favorite spot of ours for lunch or dinner. I love some of their pork chop dinners, and I have written about them before, Dining along coastal side roads, The Fairway Restaurant.
However, it was just the other day that I had a burger there which confirmed the excellence of one that I had enjoyed there recently. I love grilled burgers, and the ones at Fairway definitely tasted grilled. We actually ended up there the day of the Lowe's Home Improvement Store's opening. Burgers were promised at Lowe's but were cut off at exactly 1PM so we bailed and headed to Fairway where we got a far, far better burger.
As I enjoyed the Fairway Burger, I compared it to all the great ones that I have enjoyed. Without a doubt it is the best that I have had along the Crystal Coast. I think for pure taste it may well outshine the Burger in the Square in Roanoke which is fried not grilled. Still I might have to validate that opinion on my next trip to Roanoke.
For now, I have no doubt that the Fairway Burger holds the crown for the best burger on the Crystal Coast. I am willing to investigate challengers, but I will look only at serious challengers that come highly recommended.
---
---

We had friends from Boston visit us this weekend. They really enjoyed the Emerald Isle beaches. I was really happy the weather decided to cooperate. They left home last Tuesday and woke up in Chincoteague on Thursday morning.
It was 40 degrees Fahrenheit and the wind was blowing. By the time they had wandered down to Cape Hatteras, the temperatures had improved to the sixties. They caught the 3 pm ferry from Ocracoke and after arriving in Cedar Island managed to find their way to Cape Carteret by 7 pm.
Saturday morning was a beautiful day, and we did a quick visit to Beaufort. Afterwards we drove down the beach from Atlantic Beach to Emerald Isle, where we stopped for a late afternoon walk on the beach at 3rd Street. The water was still a little cool but tolerable.
After a walk down the Emerald Woods trail to check out the sound, we went to visit the Pelicans by Clyde-Phillips Seafood between the bridges in Swansboro. Then we had a nice dinner at the Fairway on Route 58, and we hit the sack fairly early.
Next morning, we enjoyed the breakfast buffet at T&W's Oyster House, and then we did a little light shopping in Swansboro. Afterwards we bought some nice shrimp at Clyde-Phillips. After a swing by the house to fix the shrimp and put them on ice, we headed to the beach. It was nearly as perfect as the shrimp.
There were people in the water which was noticeably warmer. We spent three hours enjoying a perfect afternoon on an uncrowded beach at the eastern end of Emerald Isle. The water was very inviting and the horizon seemed to be nothing but waves.
We finished the day with a great meal at the Crab Shack in Salter Path, and then we caught the sunset over the sound at Cedar Street access.
We sent our guests on their way back to leafless Boston this morning. They could take some consolation from the fact that the Red Sock swept the Yankees this weekend.
See more recent posts by date.
---
View a Great Waterfront Listing on Broad Creek in Carteret County
---
I recently wrote a post about leaving your computers at home when visiting the beach. It has information on computer resources for the Emerald Isle, Cedar Point, and Cape Carteret areas. You can access it at this link, "Leave the computers home."
---
Read about the Emerald Ise Saint Patrick's Day Festival or the Swansboro Oyster Roast.
---
Read my article, "The value of location ?" or, "Do you buy stocks based on newspaper editorials?" which responds to the Carteret News-Times article, "The real estate bubble."
In the technology front, if you're interesting in real estate tools, I have had great luck building a home virtual tour for 126 White Heron Lane which is located in Bluewater Cove. The tour includes a walk thorugh. The software I used is called Mapwing. and I highly recommend it. I'll be posting more on it later.
I've also written an article on the Panasonic Lumix DLC-LX2 as a camera for realtors.
---
Expect to find to find a wealth of links and information about North Carolina's Crysta Coast, including advice on coastal real estate, moving to the area, and just enjoying life on the coast. This site and its companion, Coastal NC blog, will provide a great way to sample the life here on the Crystal Coast in Carteret County.
You'll even find some of our family recipes. While we have lived up and down the east coast all the way to Atlantic Canada, both my wife and I were born and bred in North Carolina, We have found a home along the Southern Outer Banks, close to the beaches of Emerald Isle, the shopping of Swansboro, Morehead City, Jacksonville, Wilmington and Beaufort. Come for a visit you'll find the people friendly, the pace laid back, the restaurants and seafood out of this world and open even during the winter.
There are plenty of rental accomodations and enough motels to make a visit very easy. You also do not have to wait until summer. The Crystal Coast is a year round community. While merchants might keep island time and not be open every day during the winter, most stay open all year. You can even visit by boat since we have the Intercoastal Waterway running through our communities. We look forward to seeing you soon.
---
I have recently accepted a real estate broker position at Bluewater GMAC in Cape Carteret. I'll be happy to help anyone find a spot on the Southern Outer Banks or to market their properties to some of the freezing folks whom I regularly visit in western North Carolina, southwest Virginia, or northern Virginia and DC.
You can visit my REALTOR® page at CoastalNC.org/realtor or call me at 252 646-8689
---
If you're interested in technical and computer things, recently I posted an article about Business Email Services and outsourcing email.
---
Below you will find a discussion of our experience of finding a spot on the Cystal Coast and some suggestions on evaluating the area for yourself. If you have not bought waterfront coastal property before, you might want to read my article, "Making the most out of the relationship with your real estate broker."
If you are starting to think about a future real estate purchase, you might want to read my article, "Timing real estate decisions."
---
---
The first challenge, narrowing the search

The hardest battle that we faced was deciding where we actually wanted to get serious about looking for a coastal place. The houses we've saw ranged from the tiny houses on Chincoteague to some of the giant beach houses that are so much in favor on the Northern Outer Banks. The areas we investigated were from over seven hours to about five hours away from our home. We quickly learned that all driving time is not created equal.

Some trips such as the ride from Raleigh, NC down to Beaufort through all the stop lights on US 70 seem to take forever. We also found that while the trip to Wilmington down Interstate 40 was quick and boring, the trip from Wilmington to Southport was much more challenging than the number of miles suggested. Of course driving to Nags Head always seemed to take six and one half hours and then Hatteras was still over an hour away. It was hard to accept, but living in the mountains meant that the coast was going to be a fairly long drive no matter how we sliced it. (Read More)

Having spent three summers traveling the coasts of Virginia and North Carolina while looking for a pleasant place to call our home away from home, I decided that our experiences were worth sharing. How we approached solving our problem, might provide others with insight into how to quickly find a place that they like. It's also been fun figuring out that even the relatively small area of coastal Virginia and North Carolina has an amazing variety of places to enjoy.

As of mid November 2006, I am regularly adding new information about living along North Carolina's Crystal Coast. I am not on the coast one hundred percent of the time, but I am getting closer.

I also welcome information inquiries from people looking to relocate to North Carolina. My advice is free and hopefully will point you in the right direction. I am not selling anything at this point, just providing free advice to others who might be as intrigued by the Crystal Coast as I was.

The whole process of finding the right spot and moving has been a good education and put many things we experienced over the years into perspective. ( Read more)

We've found that it's pretty hard to get to know even the basics about a small place in less than three or four days. It takes that long to separate the tourist brochure hype from the reality. While there might be a dozen restaurants in the area, if you can make a left turn across a road to get to one or if you continually have to wait forty five minutes to be seated, the glossiness wears off quickly.

Also it doesn't take most people long to figure out that the better places to eat are most often the ones favored by the locals. That holds true for beaches and places to shop. Striking up a conversation with people running the local stores can bring out a wealth of information.

We were pretty educated consumers, having bought and sold a number of houses over the years, but when you come into a new area, it is almost impossible to figure out the housing market yourself.

Most people don't really understand what real estate agents can and can't do for you. It turns out they can do a lot for you, if you're serious and know what you want. Unfortunately for you and for some of the real estate agents that you meet, that may take some time.

In our case it took nearly three summers, before we gave up on Beaufort and found an area more suitable to our wallets. Yet I spent so much time with real estate agents, that I learned to appreciate the job they're trying to do.

Some of the lessons that I've learned might save you both time and money.

Doing your research and what to expect

You can do lots of research these days without leaving your home. One of the first places that I visited was the Carteret County Chamber of Commerce Website. There is a wealth of good information in any Chamber of Commerce site. Once we got to the area, we stopped by the actual office. We got some great maps and materials to help us understand the area.

I cannot remember who told me, "If you like a place in the rain, you'll love it in the sunshine." Before we decided on the Crystal Coast, we visited it summer, fall, almost winter, early March, and several times through late spring and summer. We came when the streets were crowded and when they were empty.

We've found the dining spots of the locals, and we started reading the newspapers. It's the only way to figure out if you can be part of a community and thrive.