The value of location?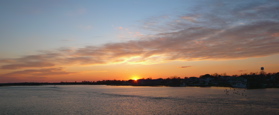 I just came back from Roanoke, Virginia. The local newspaper, the Roanoke Times, published an article today called, "
On the upswing
." It was about the real estate market. The article certainly had a different tone from the one entitled, "The real estate bubble," which was in the Careteret News-Times this past weekend. I guess the first question is whether or not the Roanoke, Va. real estate market is in that much better shape than the Carteret County one.
The Roanoke area has a much larger population, and figuring out how to compare apples to apples would be a huge challenge. Something that I do not think that I will try in a quick blog entry. I would likely end up swamped in statistics trying to equalize the two areas.
However, since I am a Realtor® and have homes in both areas, I have a pretty good idea of the market conditions. I think that I can safely say there isn't too much difference in the two markets, except in the newspaper coverage. Some home prices have come down in Carteret County, but they went far higher than they did in the Roanoke area. The average sale price here on the coast is still about 24% higher. My guess is that our waterfront properties add substantially to the average price. Living on the Roanoke River actually is a negative on selling price since the river often floods. Both markets seem relatively healthy to me.
Real estate is a very local business. It is also very dependent on the attitude of the buyers and sellers. Both Roanoke and Carteret County-Swansboro are attractive areas but for different reasons. Each area has its boosters and some wonderful things happening. It just depends on whether you like a little more urban environment with mountains or little more rural setting with beaches and lots of water access.
Buyers and sellers are the real ones to decide the prices for which homes sell. If you are happy with the area you live in and have no pressure to sell, you will likely not come down quickly in price on a house that you have placed on the market. If you want to live in a certain area, you will pay more for that area. The opposite can be true in both cases.
The wonderful thing about real estate is that different people love different areas. My guess is that both Roanoke and the Crystal Coast will see an improvement in the real estate market this year. Homes here are no longer selling before potential buyers even have a chance to see them. Prices have adjusted some but the average cost of a home continues to rise, just not as quickly.
A home is still a great investment in Roanoke or on the Crystal Coast. Now is a great time to be looking since there is plenty to choose from and as is always the case some people want to sell quicker than others.