11-Dec-2006 23:09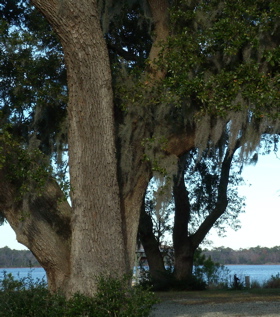 At times it seems like I have been in every quaint coastal gift store in Carteret County in the last three years. I know that is impossible, but I am pretty sure that I have hit a number of them.
I don't mind visiting the small stores, but I try to avoid malls at all costs. Avoiding malls isn't very hard when you live over on the east side of White Oak River. I also have an allergy to Jacksonville traffic, can find no reason to make the trek to New Bern, and get plenty of Morehead City in trips to Walmart and Lowes. I will admit to driving to Wilmington, but the mall entrances have been so clogged with traffic that there is no way that I have even been tempted to get in line to search for a parking place.
I did a post, "
The Christmas shopping caper
," on my View from the mountain blog about all the places I have shopped for my wife's Christmas presents over the years. This year I ended up at the
Blue Moon Showcase
in Wilmington. It's not that there aren't lots of neat local shops, it's just we have been in those shops so much this year taking our family and friends shopping that I need a break from the local shops.
The Blue Moon Showcase had just a few people wandering around when I visited last weekend. At the same time you could not even get close to the spot where you turn into Best Buy. There's is something about shopping in a herd that takes all the pleasure out of buying a gift. I actually could take the time to contemplate my purchases without being trampled or having loud music pounding on my ears.
Next year I won't be going even as far as Wilmington for presents. For 2007 I am counting on being free the weekend of the
Core Sound Decoy Festival
and for some of the other wonderful area Christmas events like the shopping by candlelight in Swansboro and the Beaufort Christmas walk. Surely not every year can be as busy as 2006.
The
live oak
pictured in this post was photographed recently near Snead's Ferry.
27-Nov-2006 21:57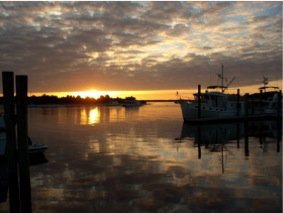 After a delicious late lunch at the Fairway Restaurant which I plan to review soon, we went looking for used boats once again. This time we headed up Route 58 through the Croatan National Forest to Maysville and then followed Route 17 east to New Bern. We stopped by one boat dealership that I had communicated with by email. The one used boat they had was way out of our price range so we forged on and headed east on Route 70.
We found the boat dealer we were had been seeking, but their winter hours include closing on Monday so we were out of luck. I got a telephoto snapshot of the boat we had come to see. Since we were only thirty miles away, we decided to go shopping in Beaufort . We took Route 101 in Havelock to get around Morehead City and Route 70 traffic. We were soon cruising around Beaufort.
Our first task was to see if some of the houses we had looked at before settling on western Carteret County were still for sale. The first three we checked were still on the market. The one we had made an offer on in June finally had a sold sign in the yard. I wonder if they got as much for their house as our original offer?
After checking out all the houses, we walked the boardwalk and snapped some pictures of a fantastic sunset. We checked out the local birding store that was having a going out of business sale, and then found a couple of great coat bargains at one of the local stores. We debated having a shrimp melt at Finz's since it was starting to approach six o'clock, but we finally decided that our Fairway lunch had killed our hunger for dinner.
We headed over the bridges to Morehead City, and got on Bridges Street to miss the five o'clock traffic. A few minutes on Route 24, and we were back in Cape Carteret shopping at the Lowe's grocery store in under thirty five minutes. We actually live in a pretty small piece of paradise. All the spots are a little different, but that is what makes living here so great.