November 27 Daily Record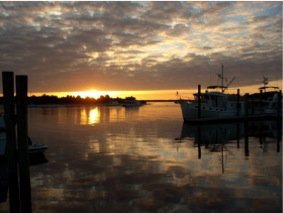 After a delicious late lunch at the Fairway Restaurant which I plan to review soon, we went looking for used boats once again. This time we headed up Route 58 through the Croatan National Forest to Maysville and then followed Route 17 east to New Bern. We stopped by one boat dealership that I had communicated with by email. The one used boat they had was way out of our price range so we forged on and headed east on Route 70.
We found the boat dealer we were had been seeking, but their winter hours include closing on Monday so we were out of luck. I got a telephoto snapshot of the boat we had come to see. Since we were only thirty miles away, we decided to go shopping in Beaufort . We took Route 101 in Havelock to get around Morehead City and Route 70 traffic. We were soon cruising around Beaufort.
Our first task was to see if some of the houses we had looked at before settling on western Carteret County were still for sale. The first three we checked were still on the market. The one we had made an offer on in June finally had a sold sign in the yard. I wonder if they got as much for their house as our original offer?
After checking out all the houses, we walked the boardwalk and snapped some pictures of a fantastic sunset. We checked out the local birding store that was having a going out of business sale, and then found a couple of great coat bargains at one of the local stores. We debated having a shrimp melt at Finz's since it was starting to approach six o'clock, but we finally decided that our Fairway lunch had killed our hunger for dinner.
We headed over the bridges to Morehead City, and got on Bridges Street to miss the five o'clock traffic. A few minutes on Route 24, and we were back in Cape Carteret shopping at the Lowe's grocery store in under thirty five minutes. We actually live in a pretty small piece of paradise. All the spots are a little different, but that is what makes living here so great.