07-Sep-2007 21:10 Filed in:
Weather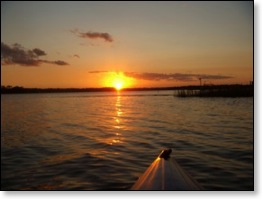 It is tough waiting for the storm off the North Carolina coast to make its move.
Still it is worth noting that the current weather is as nice as we have seen all summer. I guess we might as well enjoy it.
That is certainly what I did this evening as I kayaked out to watch the sun slide into the quiet, golden waters of the White Oak River. There was light, cool breeze. It could not have been nicer on the river.
I actually got in trouble with my wife who was waiting for me back on shore behind our house where she graciously uses a boat winch to haul my kayak up on the grass so I can have a safe exit.
Watching the sunset was so peaceful that I almost forgot what time it was. When I did a mad dash for our inlet, I knew I was in trouble when I saw her walking the boardwalk near our home.
Fortunately she is the forgiving type so I haven't had my kayak paddle taken away from me.
I did post some additional pictures in
a web gallery
.
This evening I posted my first
Emerald Isle Travel Guide
. I hope it will be useful to people headed our way.
I have put together
a number of listings
for those interested in browsing the property available in our end of Carteret County.
If your fear of hurricanes is keeping you from considering Carteret County as a spot for a second home or retirement, you might want to read
my post on hurricanes
.
Pictures are a great way to view our area, and I have created
a web page
dedicated to slides shows and images from the Southern Outer Banks.
If you want a quick tour of what it is like to live on the coast, check out this link to
a brief tour of my first year
on the coast.
I also have another web page with some of
my favorite posts and recipes
.
02-Sep-2007 23:05 Filed in:
Beach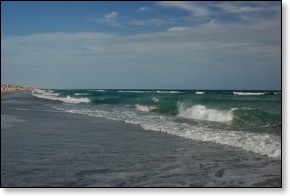 It is the last weekend of summer. The skies have cleared. The temperatures have moderated.
Anyone left on the beach is still enjoying their time there.
The water is still plenty warm and any crowding is mostly waiting for a seat at the area restaurants.
Today we drove up to Pine Knoll shores where this picture was taken. We took a short walk on the beach and then visited another beach access in the area.
After that we drove to Salter Path where we walked out the elevated boardwalk to the beach. It was so nice out there sitting above the beach in the breeze that we never made it down the steps to the beach.
On the way home I stopped to snap a picture of the Emerald Isle Bridge, the marshes at Croatan Park, and a beautiful White Oak River sunset. All the pictures are posted in
a set on Flickr
.