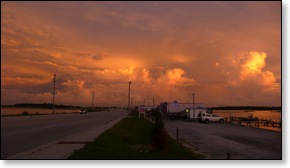 Yesterday was another warm day. We did a little boating in the morning but the heat got to me, and I decided that there are better times to be on the water.
There were some big clouds beginning to build to the north of us so I decided we would come in and clean the boat up with the hope that better weather would show up this weekend.
Later in the day, I was taking sunset photos from the Swansboro bridge near Clyde Phillips Seafood when I saw a boat streaking across the harbor. I looked to the east and saw the cloud formation that had them moving so fast.
As you can see it was very impressive. I would want to offshore or even in the Intracoastal Waterway with those clouds bearing down on me.
I think they stayed off shore, but they were certainly impressive.
25-Sep-2007 21:33 Filed in:
Beach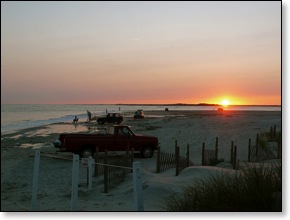 It is definitely time to catch some fish on the Point at Emerald Isle.
We drove out today to catch the sunset. It was pretty spectacular.
I still can't get over how the Point has changed.
When I took this picture, I had pulled my truck to the top of the entrance ramp to get some height for the picture.
There so little room left to drive, I am wondering how much I will use the permit that I got for beach driving.
It looks a lot more challenging at some of the other entrances, but at least their beach hasn't disappeared.
There's actually more sand on the Point than there used to be, it just isn't where it was this winter.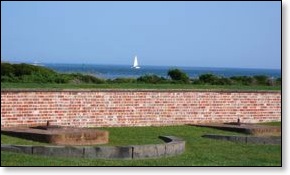 It was a very warm September Sunday afternoon when we spent a few minutes checking out the fortifications at Fort Macon.
We go to the beach there once in a while just to watch the boats come in from offshore, but this is the first time we have been in the Fort.
It is an impressive spot with a commanding view and obviously a good place to lob shell at your attackers.
It must have been a tough place to build a fort.
Fort Macon reminds me a little of the Citadel in Halifax, Nova Scotia, but the Citadel has a lot more elevation.