A visit to Fort Macon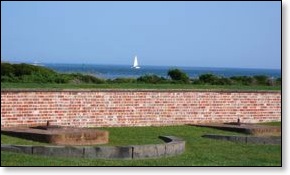 It was a very warm September Sunday afternoon when we spent a few minutes checking out the fortifications at Fort Macon.
We go to the beach there once in a while just to watch the boats come in from offshore, but this is the first time we have been in the Fort.
It is an impressive spot with a commanding view and obviously a good place to lob shell at your attackers.
It must have been a tough place to build a fort.
Fort Macon reminds me a little of the Citadel in Halifax, Nova Scotia, but the Citadel has a lot more elevation.