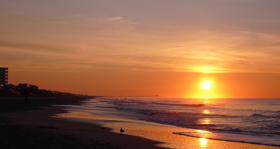 Well I took another shot at getting over to the beach by sunrise. I almost made it. I did catch the
sun rising on Bogue Sound
. It was pretty spectacular. My wife actually said, "Does it really look like that?" I told her that folks who never get up to see the sunrise should not question those who do. Of course that meant I had to take her out to dinner tonight to make up for having a smart mouth.
Usually the dramatic effects come from zooming in on the area which is most exotically colored and then cropping out the rest of the scene. Sometimes putting pictures on the web distorts the colors a little, but usually it mutes them, and you have to adjust for that to get the image back to the way your eye saw it. Of course my eyes might see if differently than someone else's.
I got a really nice shot of
the sun through the beach grasses
just as I walked on the beach. Then there was this
spectacular shot
of the light from the rising sun catch the foam of waves that I had zoomed in on for a closer shot. Part of the reason I enjoy taking pictures into bright sunlight is that you get some very unusual effects as the camera lens adjusts for the very bright light.
Later in the morning, we took a run over to Newport and checked out the annual Pig Cooking Contest. I wrote a post, "
Barbecue for breakfast
," about the event on my View from the Mountain Blog. I also posted some pictures at "
Newport's Big Barbecue Event
."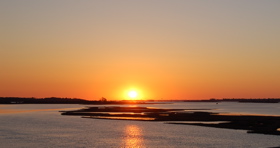 There were a couple of days recently when I did not take any photos. It actually bothers me since I use my pictures to help with ideas for my writing. There is one time of day that is almost always wonderful for pictures. That's sunrise on a clear morning. As difficult as it is to roll out of bed early, I decided that I wanted to get a picture of the sunrise from Emerald Isle. Unfortunately our cat took a playing spell around five this morning and woke me up. When I fell back asleep, I overslept by about ten minutes.
When I got into the car, I knew that I would be late, but I figured it was worth the ride anyway. I was right. Each inland body of water was
a mass of fog
so dense that my camera's auto focus wouldn't work on it. I only got to the bridge over to Emerald Isle before the sun started coming up. It was a fantastic sight, and traffic was light enough that I was able to come almost a complete stop at the high point on the bridge. That is where I snapped the shot included in the post.
I could have turned around after getting to the island and been happy, but I went on over to the first public access and got a few more shots. It was worth the effort The first shot I call
beachrise
and the next one simply
palmsunrise
.
It was cold enough on the beach to have a coat on, but it turned out to be a gorgeous day later.
This morning Yardworks finished laying some sod around our house that did not get put down in the fall. Now I can start enjoying the
patterned concrete patio
we had done this winter. I also put our new gas grill together this week. The gas company hooked up the gas line, and I have a nice Porterhouse Steak in the fridge for Saturday night. I am looking forward to it.
Speaking of food we had a birthday lunch for a co-worker at Rucker John's on Emerald. I think we all had one of their delicious salads. We previewed a few homes this afternoon, washed my car, and still got home in time for me to go for a bike ride and water the new sod.
This is the weather that I moved to the Crystal Coast to enjoy. Today the high temperature was 66 degrees Fahrenheit with a low temperature of 34 degrees. There was widespread frost last night but tonight we aren't supposed to be so cold. By next week, the first week in April, the forecast is for us to be back in the mid-seventies which is pretty close to perfect.
The rain earlier this week did a good job of getting much of the pollen out of the air for a few days. So there is not much to complain about except we need more rain.
Tomorrow is the big Pig Cookout in Newport. With any kind of luck we'll get to sample that great
vinegar based barbecue
.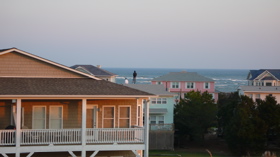 We were all young once. I can remember climbing out on the roof of my college dorm with nothing but an old copper gutter to keep us from falling four or five stories. I snapped this photo from one of my favorite beach houses.
After previewing hundreds of homes, on or near the water, I have to say the spot where I took this shot is one of my favorites since you can rotate 45 degrees and see a
wonderful sunset
.
I think it is really neat that people are drawn to some of the great spots for sunsets. It seems viewing the great ones is a daily activity for some of us. People often
do little talking
, mostly they just stand in awe of the natural beauty unfolding in front of them.
It is one of my favorite times of day. It's a little easier to take than sunrise which requires lots of effort to enjoy unless you have a home like we do in Roanoke where
sunrise
is part of your bedroom.
So far my favorite sunset is
this one over Bogue Sound
from the Emerald Woods trail pier. I like this
White Oak River Sunrise
. If you like the photos, I have some prints of other scenes in the area for sale at the Tidewater Gallery in Swansboro.