18-Jan-2007 11:10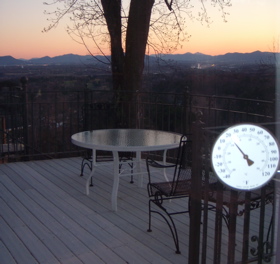 I have been traveling recently so updating my my
Coastal Carolina blog
has been on hold for a few days. There's been a touch of winter weather through the Piedmont of North Carolina and Virginia. In fact it delayed our return to the coast by a day. Having lived through lots of snow and ice, I'm always of the opinion that the best way to enjoy winter driving is to become a spectator and stay inside. As you can see from the view from our deck in Roanoke, we're used to the mountains. The steep, half mile long hill that you need to negotiate the final almost five hundred feet of elevation before reaching our home has been the scene of many exciting traffic incidents.
During one blizzard they even sent a bulldozer to clear our road. Mostly we worry about ice. As most people are aware, ice is a problem on even what appears to be flat ground. Just imagine what it is like living on a 17% slope like ours. We had one neighbor back his Subaru out of the driveway one particularly icy morning. It completely spun around, and he ended up doing a miraculous job of guiding it down the hill backwards. He went out and bought chains the next day. I think they were only temporary as he and his family are now living in the Wilmington area. We have a seventeen year old AWD Nissan Access that stays in Roanoke. Several neighbors have tried to buy it from us since it is famous for going up and down the hill with chains on all four wheels. It's gone by any number of four wheel drive trucks and SUVs in the ditch. We call it "
little Limo
." It has rescued many people trying to haul groceries up our hill. Still until I snapped this picture of the cold temperatures on our deck, even in the moutains of Virginia the temperatures were in the seventies on Monday.
Those warm temperatures resulted in some
interesting flowers
popping up. The recent cold weather has certainly slowed down all that spring growth. I expect the cool temperatures are getting closer to the coast. It's is inevitable that winter will find us if it has found the rest of the country.
I bring up the snow, ice and cold temperatures to the west and north of us because I have noticed in the long range forecasts that there is a chance for some wintery weather in our
Coastal Paradise
. If the something as long as a fifteen day forecast is to be believed, a week from today, we will be entering in a colder period of weather with highs only in the mid to upper forties for a whole week. Then on January 30, the prediction from the Accuweather folks is " A chance for rain or snow showers in the morning, then a shower possible in the afternoon."
Of course three days later, temperatures are expected to approach sixty degrees Fahrenheit. Next week might just be a good week for visitors to the beach to make sure they have a nice warm gas fireplace to keep them cozy after what looks to be a colder than normal week.
___________________________________________________________________________________________________________________________________________________
I'll be talking about it more later, but I have recently accepted a real estate broker position at Bluewater GMAC in Cape Carteret. I'll be happy to help anyone find a spot on the Southern Outer Banks or to market their properties to some of the freezing folks whom I regularly visit in western North Carolina, southwest Virginia, or northern Virginia and DC.
You can visit my REALTOR® page at
CoastalNC.org/realtor
.
28-Dec-2006 19:14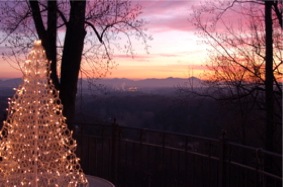 It's funny how you find people at the beach who have a mountain place and people in the mountains who have a place at the beach. We have lived on the side of a mountain in Roanoke County, Virginia for over seventeen years. The view of the city of Roanoke and the mountains surrounding it is spectacular. You can even see more shots taken from my deck by clicking on this link to my
mountain sunrise prints
.


I absolutely love having a mountain view, but I find it hard to fault the coastal view that we have. I actually love driving around capturing some of the coastal scenery which as far as I am concerned does a a very good job standing up to the competition of the mountain prints.

Drop by my
Picasa web albums site
to have a look at some of the shots that I have captured just in the last few months.

Most of our life we have lived with a view of something besides the trees around us. Only when we lived in Columbia, Maryland were we so surrounded by poplar trees that we couldn't see anything. It felt claustrophobic.

Living on the North Carolina coast is totally different. The views are almost unlimited. In fact some of my favorite shots are of views where the scenery seems to fade into infinity. This
shot of the beach at Cape Lookout
is of a view that it is so big that it makes you feel small. I absolutely love those shots where the water and sky combine to dwarf you.

So I guess the answer is no I don't miss the mountain scenery. I still get to see plenty of it. However, right now I am enjoying the impressive scenery that the Southern Outer Banks has to offer. When I ride across the bridge to Emerald Isle and cross over the Intercoastal Waterway, it still almost takes my breath away it's so beautiful early in the morning or late in the afternoon. I don't think the mountain scenery is any better than the coastal scenery. They both stand on their own merits. There is plenty of room for enjoyment of both. In my case I'll just stick some mountain prints in our coastal house and some coastal prints in our mountain house. We may not have two houses for long, but as long as we do, we'll keep the wall filled with prints which I enjoy creating. If you're interested in purchasing any visit my
print site
.

Today over at
View from the Mountain
I talked about a trip we made to Mount Airy, NC or Mayberry as it is often called. It's our homeplace. I also did
a post on my Applepeels blog
about the atmosphere at Apple which probably contributed to the deepening Apple options backdating scandal.

On my blogger site,
Ocracokewaves
, I did a write-up about corporate ethics in America.
04-Dec-2006 22:36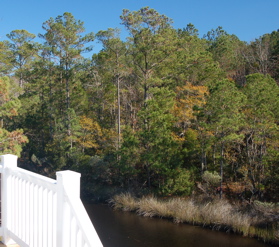 There is no doubt that cool weather has finally found the Crystal Coast. The weathermen are even calling for temperatures to fall into the upper twenties tonight. That is about as cold as I care to see it.
Still I have a hard time complaining. It was warm enough sitting in the sun in my upstairs office, that I opened the window for a few hours. Reports from the mountains around Roanoke, Virginia indicate that we should be thankful for the warmth that we have.
I still have not had to put a coat on to go get the newspaper yet. I also worked on some panorama pictures just after lunch today, and it was still shirt sleeves weather. I can still remember when we moved from northern New Brunswick in eastern Canada to Halifax, Nova Scotia. We found that we could wear tennis shoes for a good part of the winter. We were astonished. We had seen temperatures as low as minus forty degrees on our farm.
I was definitely a lot tougher in those days, but that was twenty five years ago. As one New Brunswicker who visited us in Virginia a few years ago asked, "Tell me again why you moved to Canada." Well we moved for cheap farm land. Fortunately today I can say that we moved to the Crystal Coast for quality of life and a great climate. So far it has been a great experience.