Don't you miss the mountains and the view?
28-Dec-2006 19:14 Filed in:
Roanoke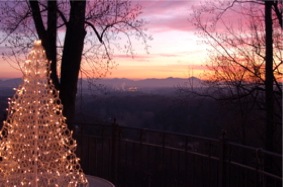 It's funny how you find people at the beach who have a mountain place and people in the mountains who have a place at the beach. We have lived on the side of a mountain in Roanoke County, Virginia for over seventeen years. The view of the city of Roanoke and the mountains surrounding it is spectacular. You can even see more shots taken from my deck by clicking on this link to my
mountain sunrise prints
.


I absolutely love having a mountain view, but I find it hard to fault the coastal view that we have. I actually love driving around capturing some of the coastal scenery which as far as I am concerned does a a very good job standing up to the competition of the mountain prints.

Drop by my
Picasa web albums site
to have a look at some of the shots that I have captured just in the last few months.

Most of our life we have lived with a view of something besides the trees around us. Only when we lived in Columbia, Maryland were we so surrounded by poplar trees that we couldn't see anything. It felt claustrophobic.

Living on the North Carolina coast is totally different. The views are almost unlimited. In fact some of my favorite shots are of views where the scenery seems to fade into infinity. This
shot of the beach at Cape Lookout
is of a view that it is so big that it makes you feel small. I absolutely love those shots where the water and sky combine to dwarf you.

So I guess the answer is no I don't miss the mountain scenery. I still get to see plenty of it. However, right now I am enjoying the impressive scenery that the Southern Outer Banks has to offer. When I ride across the bridge to Emerald Isle and cross over the Intercoastal Waterway, it still almost takes my breath away it's so beautiful early in the morning or late in the afternoon. I don't think the mountain scenery is any better than the coastal scenery. They both stand on their own merits. There is plenty of room for enjoyment of both. In my case I'll just stick some mountain prints in our coastal house and some coastal prints in our mountain house. We may not have two houses for long, but as long as we do, we'll keep the wall filled with prints which I enjoy creating. If you're interested in purchasing any visit my
print site
.

Today over at
View from the Mountain
I talked about a trip we made to Mount Airy, NC or Mayberry as it is often called. It's our homeplace. I also did
a post on my Applepeels blog
about the atmosphere at Apple which probably contributed to the deepening Apple options backdating scandal.

On my blogger site,
Ocracokewaves
, I did a write-up about corporate ethics in America.