25-Aug-2007 23:02 Filed in:
Beach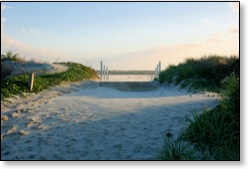 Summer is beginning to slip away even as the heat hangs on along the coast.
It will not be many weeks before we will start experiencing cools breezes once again.
The air will clear. The beaches will empty, and the Crystal Coast will pretty much revert to the permanent residents.
It is a great time to come to the beach. I am already starting to hear from people who want to visit in the fall in anticipation of a move next year.
There is no better time to come than when we have warm days and cool evenings.
I have put together
a number of listings
for those interested in browsing the property available in our end of Carteret County.
Pictures are a great way to view our area, and I have
a web page
dedicated to slides shows and images that I have taken over the last year.
If you want a quick view of what it is like to live on the coast, check out this link to
a brief tour of my first year
on the coast.
I also have a new web page with some of
my favorite posts and recipes
.