27-Jun-2007 23:00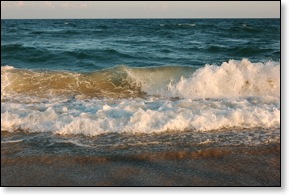 It's almost the fourth of July. I can confirm the water is ready. As we walked on the beach tonight, the water washing over my feet felt almost felt warm.
There were actually a few people on the beach late this evening. It nice to see everyone enjoying themselves. That is what the beach is all about on the Crystal Coast.
I saw kites flying, kids digging in the sand, even a little girl fishing. Someone said the little girl caught a nice Bluefish earlier in the day.
It felt like summer today. The fact that I managed to get an early morning swim in before the heat came helped, but still it was a warm day.
When we were driving back from the beach late this evening, I noticed the temperature was still over eighty degrees. It is summer what can I say?
We when got out at home just as it was getting dark, the warm air with a nice breeze felt just about right.
I need to attach my flag holder bracket to the house, and I will be ready for the fourth of July. The fridge is stocked and plans have been made to watch fireworks either on the beach at Emerald Isle or in Swansboro.
I think the beach got ready for the fourth before I did. It certainly appears the Crystal Coast is ready and waiting for the holiday visitors. Except for Saturday, when thunderstorms are predicted, things look good for the fourth of July week.
For a larger image of the waves,
click here
.
Podcast