07-Jul-2007 18:43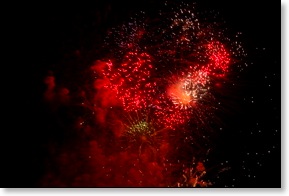 I doubt that there was a nicer day anywhere than our 4th of July here on the Southern Outer Banks.
In fact it you could bottle weather, that would have been the day to capture.
We left home our home in Bluewater Cove by boat a little after 11 am.
Just as we were getting ready to turn left and head down the river to Swansboro, we saw Bucky and Teresa who work in the same Bluewater GMAC Real Estate office.
Bucky immediately offered to show me how to run the White Oak River up to Stella.
The river is much narrower, deeper, and exotic above Stella.
Being a novice boater, I jumped at the chance to follow someone up the river.
Bucky led us around the oyster beds up to his beautiful home on the water in Stella.
Then he showed us a short cut from the tidal portion of the river to the narrow portion of the river near the trestle and highway bridge.
He went a little way up the river with us, then gave me his cell phone and told me to call if I got in trouble.
The river was absolutely gorgeous and glassy smooth. We went almost to Haywood Landing before turning around and heading back towards Swansboro.
We anchored not far from Swansboro and fished a while before heading back home.
We got back around just in time for a bite of lunch and a quick nap before the neighborhood parade and watermelon feast.
As we all stood around the clubhouse and enjoyed each other's company, I had to marvel at how lucky we are to live in such a beautiful area filled with friendly people from all over the country.
We finally went home cooked some burgers on the grill, watched the neighborhood fireworks and jumped in the car to catch the show at Emerald Isle at 9:30 pm.
We stopped to get a cup of ice cream custard in Emerald Isle while the traffic thinned out.
When we got home, we called the kids and watched the last few minutes of the fireworks on the Mall in Washington DC.
It was pretty close to a perfect day. I even caught a nice croaker off the dock in the morning before things got rolling. I can't ask for much more.
View slide show of trip up the White Oak River
View slide show of Bluewater Cove 4th of July Parade
View slide show of Emerald Isle Fireworks
Podcast