24-Feb-2007 22:35 Filed in:
Weather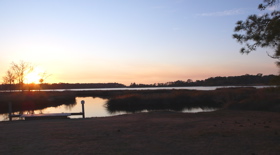 This shot was taken at Hidden Bay this evening. We've spent most of the week wandering Emerald Isle. I have been surprised at how windy it has been over on the beach, but I guess that is just me being new to the area. Last week it seemed ten degrees on more cooler over on the island compared to Cape Carteret. This has been a good week to hope for a bridge without delays. There have been plenty. Maybe they are almost done with whatever they are doing.
We have been over on the island so much that we have managed to eat lunch twice at
Mike's Place
. There aren't many places to get inexpensive lunch food in this area, and Mike's is one of them except I am guessing that during the summer you probably can't get near it. I've tried one of their Greek specials and enjoyed their very tasty vegetable beef soup.
As long as you can get your lunch in before 2 pm, Mike's is a good spot to hit.
Carteret County is truly an amazing place. I actually don't know how I get anywhere on time. I am always stopping to take pictures. When I go around a curve there is always a new vista where I think I might snap the next great shot. This is the perfect time of the year for photography. The air is clear with no haze, and there are just enough people around to add some interest to the pictures. The pelicans also seem especially cooperative right now. If they can find a sunny spot, they aren't going to give it up just because someone is taking their picture. This shot which I call
Clyde's Birds
was taken over between the bridges near Clyde Philip's Seafood on Friday night. I took two others that I really like at the same time and spot. One I call
Pelican on Fire
and the other simply
Gull and Pelican
.
My
new camera
, which I got for taking wide angle shots in houses, is also great for landscapes like this picture from the point at Emerald Isle that I call
Beach Light
. The new camera is the reason I cannot seem to go around a curve without stopping to take a few pictures. It also does a great job on houses.
This Bluewater Cove house is still under construction and has not been cleaned up yet, but you still can see how well the wide lens shows off the house if you visit my website dedicated to
126 White Heron Lane
.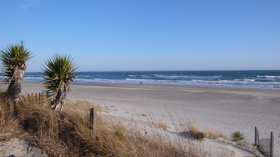 Finally after a month of cold weather, we are now getting some warm temperatures once again We've had lots of Robins in our yard, and I've actually been out to get the newspaper two mornings in a row without a coat. Those are good signs. It's nice to see that
the ice on channel
behind the house didn't become permanent.
The last couple of weeks, I've been previewing homes throughout Carteret County. I am stunned by the selection of real estate available here on the Crystal Coast. There is everything from huge homes on the water costing in the millions to newly constructed homes priced under $270K. I am also surprised by the number of people interested in the Crystal Coast who have never even been here. People are searching for areas with low crime, great weather, pure water, and friendly people.
I feel pretty safe in saying the Crystal Coast meets those requirements with little trouble. There are lots of other advantages that come with living here. We have had a good time hiking in spite of the cool weather. I have created
a web page with links
to many of the wonderful accessible trails here on the coast that can be enjoyed even by those who need to use wheel chairs.
While we were checking out homes in Emerald Isle today, we decided to have lunch at
Jordan's
. I have given them my official award for the best piece of Flounder that I've had so far in Western Carteret County. They are located at
8106 Emerald Dr.
and are closed on Tuesdays this time of year.